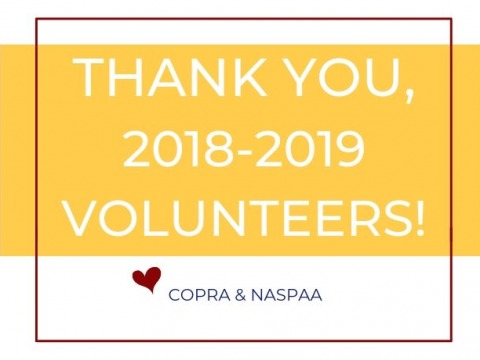 The work is hard, but the reward is high. NASPAA's Commission on Peer Review and Accreditation (COPRA) and volunteer site visitors deserve to be recognized for an incredible year dedicated to public service education.
A lot of the work COPRA does is behind the scenes, but it is essential to the continuation of our organization. This August, five COPRA members will be finishing terms in their current positions: 
David Campbell, Binghamton University
Maja Holmes, West Virginia University
Thomas Longoria, Texas State University
Jeffery Osgood, West Chester University
Craig Thomas, University of Washington
In 2018-19, the average COPRA member traveled a total of 8,351 miles round-trip for their required meetings. They contributed dozens of hours to the accreditation process and to upholding quality standards of public service education. We are so thankful for their contribution to the entire field of public service. We are also especially excited to welcome Maja Holmes into her new position as CORPA Chair, which she will take over from current COPRA Chair Jeffery Osgood at the end of August.
The work COPRA does at bi-annual meetings would not be possible without the incredible contributions of our volunteer site visitors. Site visitors are the eyes and ears of COPRA. These hard-working volunteers travel around the world to programs and carry with them an extensive knowledge of the Standards and how they can be applied. Over the past year alone, we had 97 site visitors each contributing roughly 32 hours per visit. Each of these site visitors are integral to the continuation of NASPAA's peer-review accreditation process, and we are so grateful for the care they take in supporting programs.
Sometimes it takes a village, and in the case of accreditation that is certainly true. The process of accreditation would not be possible without the invaluable contributions of COPRA members and site visitors. Their hard work each year allows NASPAA to grow the number of quality programs on the Roster of Accredited Programs, a list which now totals more than 200 strong. To all of the site visitors and COPRA members who have contributed- THANK YOU!