Data on Accredited Programs
Accreditation by the Numbers
2017-18 Accreditation Data Report
Since 2010, NASPAA has collected data on key outputs and outcomes of master's degree programs of public service education to track the development in the field, producing annual reports to present and analyze the aggregated data. The 2017-18 Accreditation Data Report is the eighth annual data report on NASPAA Accredited Programs. The 2017-18 report analyzes and concludes the education performance of 209 accredited programs and programs seeking accreditation in academic year 2018-2019. Also, the trends of some critical indicators are presented after the annual data analysis. Data in this report are provided by programs and collected by NASPAA from self-study reports, accreditation maintenance reports, and annual program surveys. You can download the report or the raw data.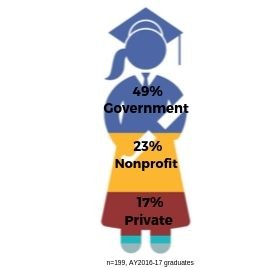 Key findings of the report include the following:
Applications to public service programs increased this year, in contrast with a trend of decline over the past few years.
On average, 85 percent of students graduated or remain active in the program after 4 years.
The public sector continues to hire the largest number of graduates.
Data for trends and previous Data Reports* available here. *All data on accredited programs from AY 2010-2015 Annual and Self-Study Reports
2013 Diversity Report
The 2013 NASPAA Diversity Report seeks to not only compare the data presented in the NASPAA Diversity Report published in 2000, but also to convey the trends and changes in the state of diversity over the past decade. The first section focuses on the racial and gender diversity changes in the student body. The second section focuses on the racial and gender diversity trends in the faculty body. Finally, the third section will show the state of universal competency analysis and implementation in terms of communication with diverse communities and changing workforces.
Download the 2013 Diversity Report and source data:
2013 Diversity ReportAppendix B-1: Student DataAppendix B-2: Faculty DataAppendix B-3: Competency DataAppendix B-4: Faculty Retention
Interested in conducting a deeper dive into data collected on behalf of accreditation? Refer to COPRA's research proposal guidelines,here, to begin the proposal process!
Past Accreditation Data Reports