NASPAA Policies Regarding COVID-19

Last Updated:7/1/2020  
We are a global community of 320 schools of public governance and administration, and we are training the next generation of public servant for a changed world. We raise up everyone around the world who is working for the public good at this unprecedented time, especially those addressing social, racial, and global inequities in COVID incidence and response.  
As a global organization that regularly brings people together from all over the world to advance quality in public service education,  NASPAA is carefully monitoring COVID-19 developments and thinking about how to deal with the risks it poses to our membership, staff, and volunteers. The safety of our staff and volunteers, and all NASPAA members, is a priority.   
NASPAA is following local DC/MD/VA health department directives, the CDC, and US Department of State and other countries' visa guidelines (for travel domestically and internationally.) We are also monitoring WHO situation reports for global updates.  NASPAA will adjust our staff and volunteer policies regarding travel and work as the situation evolves. 
NASPAA has now fully adapted to the public health emergency.
As of 7/1 NASPAA's physical office in Washington DC remains officially closed. We have established a virtual office and headquarters with remote work and occasional NASPAA teams will be in the DC office for special projects.  Staff are working full-time and are providing as high and complete a level of service to member schools and the public as possible. Members are encouraged to contact staff via email. NASPAA will continue to receive mail and packages, and to make payments electronically and by check. The invoices for 2020-21 NASPAA dues have been transmitted electronically to all principal representatives, and are now payable.  
As of 4/15, and extended on 7/1 until further notice, ALL NASPAA travel out of area by staff and volunteers has been cancelled, and will be restored when conditions permit.   
NASPAA has taken the following specific actions in response to the extended public health emergency:
The Vietnam joint meeting with Fulbright University Vietnam (set for April) will be rescheduled to a future date.  
The KDI South Korea site of the 2020 NASPAA-Batten Student Simulation Competition  (originally Feb 29) has been postponed. New date TBA. All other simulation competition sites proceeded as scheduled, with extensive warnings and information provided to participants.   
The Executive Council meetings were held virtually on March 13 and June 19, as was the COPRA meeting (June 21-25). The Fall 2020 Executive Council meetings will be virtual.   
NASPAA Accreditation Site visits:  All Spring 2020 site visits were either completed virtually after March 7, or deferred until Fall. Decisions on the status of those visits will be made at a future date, as will decisions about Spring 2021 site visits. For virtual site visits, COPRA made concerted efforts to ensure that the site visit experience was as comparable as possible to in-person visits, and the Commission will continue to adhere to that practice.
FUTURE  EVENTS, TRAVEL, AND NASPAA HEADQUARTERS
NASPAA's Fall Conference, Oct. 14-16 WILL take place…VIRTUALLY.  On June 19, the NASPAA Executive Council determined that the conference will be wholly virtual, but that all accepted panels will be presented in some form (live and prerecorded on-demand), and the format of the conference will be substantive and highly interactive. The panel submission deadline has been reached, and a considerable volume of panel proposals received.   
NASPAA will follow the CDC, WHO situation reports, US Department of State and other nations'  government  guidelines, and member institutions' faculty travel policies when planning FUTURE global  international travel. It is anticipated that NASPAA will not scheduling ANY international travel or meetings until January 2021 or later.   
As in-person global events come back onto the schedule, all volunteers should check with their employer that their actions do not contravene institutional policies regarding employer-sponsored  travel and health insurance coverage.    
Other NASPAA international events currently in the planning stages ARE advancing, with contingency plans being put in place for holding virtually or rescheduling for a later date.  
NASPAA's physical headquarters in Washington DC will re-open officially when conditions permit, which is unlikely to occur until after Labor day. The re-opening will be announced in advance, on NASPAA's website and social media.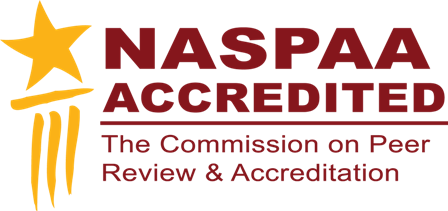 Together, we are facing an unprecedented, global public health crisis demanding the prioritization of the health and safety of our colleagues, students, and families. As we navigate the evolving situation, the importance of our role as public service educators is unmistakeable and COPRA takes seriously its role in supporting each accredited program during this time. 
NASPAA, COPRA, and accredited programs, are bound through the accreditation process by a commitment to public service values and continuous improvement, ensuring that students and faculty are well-served and successful. This commitment distinguishes our programs, and we are confident in your ability to continue supporting your communities by embracing your strengths even while adapting to the unknown. We encourage you to rely on the NASPAA community for support, reflect on learning opportunities, and continue to find innovative ways to promote public service education and student success.
COPRA understands the fast evolving nature of university responses to the pandemic and acknowledges that in response to the public health crisis most programs are imminently moving to distance learning, canceling important events, and managing large-scale changes to course delivery and faculty and student engagement. As programs and universities grapple with how to best respond, we are sensitive to the extenuating circumstances surrounding these decisions and supportive of moves that place student and faculty health and safety at the forefront. The Standards are designed to be flexible to accommodate varying contexts, missions, and changing situations like this one. 
In the context of current and anticipated academic disruptions, COPRA wishes to highlight several Standards (below) that are immediately linked to the evolving situation. While COPRA has only highlighted some of the NASPAA Standards, it recognizes that university responses to COVID-19 will be varied, student-centric, and will impact programs across all aspects of delivery. This is a unique circumstance and COPRA is mindful of this, anticipating that these impacts will be focused on the short- and medium-terms and that programs will be able to adapt strategically while ensuring conformance to the Standards and student success in the long term.
We will continue to monitor official guidance about the response to COVID-19 and be mindful of how it is impacting accredited programs. (For more on NASPAA's response, refer here). This is a critical time for our society and we are honored to be supporting a field that is so deeply embedded in educating the public servants guiding us through this time.
Please contact hamilton@naspaa.org with any questions.
Warmly,
Maja H. Holmes
Chair, Commission on Peer Review and Accreditation (COPRA)
------------------------
Standard 2.1 Administrative Capacity: The program will have an administrative infrastructure appropriate for its mission, goals and objectives in all delivery modalities employed. 
Standard 2.2 Faculty Governance: An adequate faculty nucleus—at least five (5) full-time faculty members or their equivalent—will exercise substantial determining influence for the Self-Study Instructions – governance and implementation of the program.
COPRA recognizes that many, if not most, decisions regarding responses to COVID-19 will be made by the university. As decisions are implemented at the program level, the Commission emphasizes that the governance arrangement, including administrative leadership, should ensure the ongoing integrity of the program. Because program nucleus faculty members have deep knowledge of their program and a commitment to participatory processes, they also should play a significant role in the governance and execution of the program. 
Standard 4.3 - Support for Students: The program will ensure the availability of support services, such as curriculum advising, internship placement and supervision, career counseling, and job placement assistance to enable students to progress in careers in public service.
Programs should maintain transparent and accessible support for students, especially as there are changes to program delivery and course expectations. These changes may necessitate additional or new support services be available to students to help navigate any academic disruptions, and programs should consider how to ensure the necessary resources and guidance are available to students. Programs should continue to provide services that help students achieve their educational, internship and career objectives. 
Standard 7.1 - Communications: The program will provide appropriate and current information about its mission, policies, practices, and accomplishments—including student learning outcomes--sufficient to inform decisions by its stakeholders such as prospective and current students; faculty; employers of current students and graduates; university administrators; alumni; and accrediting agencies.
When communicating with stakeholders, programs should be transparent, accountable, and truthful, and this is especially important during a rapidly evolving public health outbreak. Programs should be sure to exemplify the public service value of transparency in programmatic actions.