2021 NASPAA Annual Conference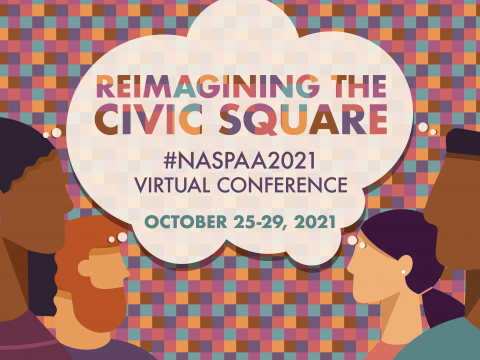 The 2021 NASPAA Annual Conference, Oct. 25 – 29, will be primarily an online experience using the virtual conference platform, Pathable, https://naspaa2021.pathable.co/. You will be able to share, learn, connect, and showcase in a safe and sustainable way. Attendees will be able to engage with live and prerecorded sessions, schedule one on one meetings, attend committee and section meetings, search and create a personal agenda, and interact with peers, speakers, and sponsors. All presentations through the platform will integrate with Zoom. Committee and Section meetings will take place on Monday, Oct. 25 and Tuesday, Oct. 26, most workshops will take place on Wednesday, Oct. 27, and most panel sessions will take place between 11:00 am – 5:00 pm Eastern Daylight Time (EDT) USA on Thursday, Oct. 28 and Friday, Oct. 29, 2021.
I am registered, How do I access the NASPAA Virtual Conference, https://naspaa2021.pathable.co/?
All registered attendees should receive an invitation from the email address "2021 NASPAA Conference <no-reply@pathable.com>" with a unique link to setup your account and create a password. View Attendee Experience video HERE.
If you DID NOT receive this email, please notify wanna@naspaa.org. Chrome is the recommended browser to use with Pathable.
Can I still register for the virtual conference?
Yes. "On-site" registration is open. Member (NASPAA and TPAC): $150 and Non-Member: $200. All participants, including panelists, will need to register for the virtual conference.  
Are there instructions for Speakers?
A:If you are a "speaker" presenting on a panel, workshop, or Q&A session, you should have received a communication on how you will present. Please contact minkoff@naspaa.org if you have question, or view the guides on how to present HERE.