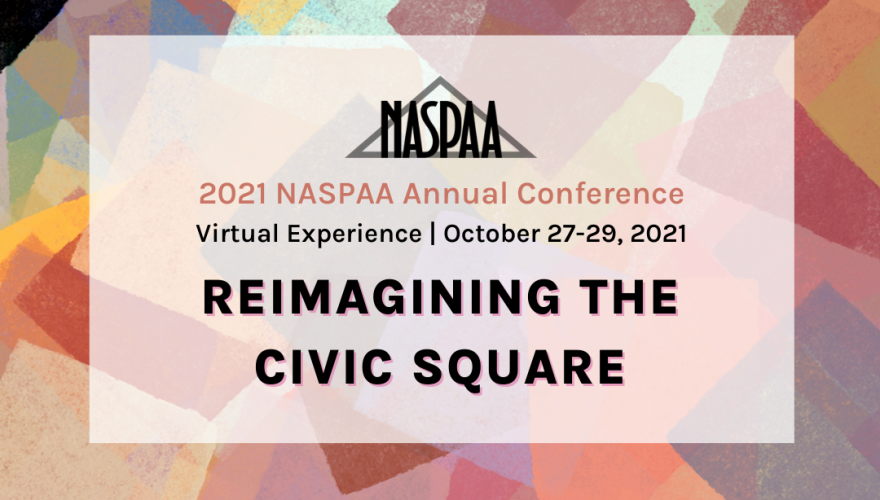 Call for Propsals 
NASPAA's 2021 Annual Conference Call for Proposals is now live! The Conference will take place virtually October 27-29, 2021, with the theme "Reimagining the Civic Square." Preview the application questions and submission details before you begin the online submission process. All proposals must be submitted by the session convener by Wednesday, May 12, 2021 at Midnight EDT.
#NASPAA2021 Conference Format
The 2021 NASPAA Annual Conference will be primarily an online experience where you will be able to share, learn, connect, and showcase in a safe and sustainable way. If some pandemic restrictions are lifted by early September, NASPAA will seek to add in-person components as we are able-- please see format options below. Taking place on our online conference platform, Pathable, attendees will be able to engage with live and prerecorded sessions, schedule meetings, search the agenda, and interact with peers, speakers, and sponsors. All presentations through the platform will integrate with Zoom. Most sessions will take place between 11:00 am – 5:00 pm Eastern Daylight Time (EDT) USA on October 28 and 29, 2021.
This conference is an important moment for the NASPAA community and public service education to convene – there are important issues, ideas, and research to discuss.
#NASPAA2021 Conference Chairs
We are pleased to announce that NASPAA President, Laura Bloomberg, has named the 2021 NASPAA Annual Conference Chairs. Dr. Gloria Billingsley, Professor, MPA Program Director, Department of Public Policy and Administration at Jackson State University and Dr. David Van Slyke, Dean, Maxwell School of Citizenship and Public Affairs at Syracuse University will co-chair the conference, which will be a continuation of last year's conference theme "building the new civic square." "We have an unprecedented opportunity to build a more responsive, equitable and just society and I think NASPAA and the accredited programs it represents are positioned to have national impact and be levers of change in their countries, states and local communities," Dr. Billingsley stated. "It is an honor to co-chair this year's conference and to help engage our colleagues in the vital discussion of what public affairs programs are doing to help strengthen democratic governance, equity, and opportunities for all individuals, and to train tomorrow's leaders to have an enduring impact," shared Dr. Van Slyke. NASPAA looks forward to working with the co-chairs to plan a meaningful and engaging 2021 conference!