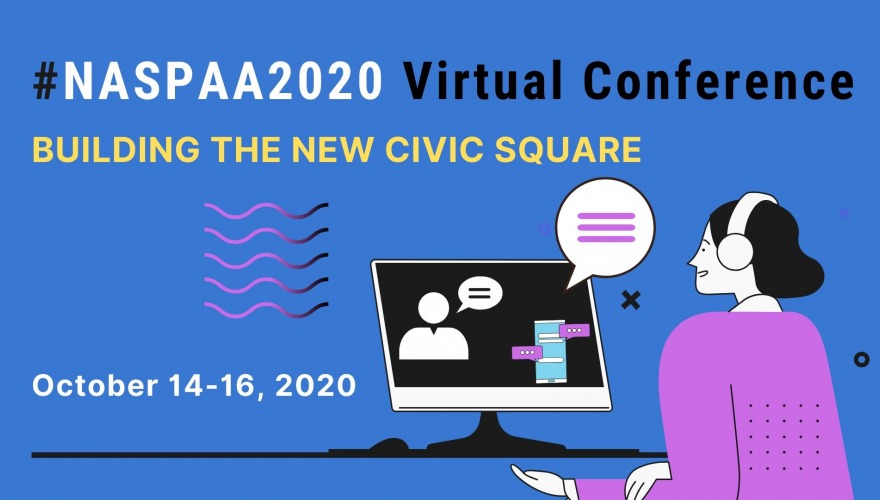 #NASPAA2020 Will Be VIRTUAL!
View Format & Schedule  Register now
In light of the COVID-19 global public health crisis, the 2020 NASPAA Annual Conference will be held as a VIRTUAL EXPERIENCE this year to ensure the safety and accessibility of the NASPAA community. Although, we are not able to gather in-person in Chicago this year, we are excited to be able to learn and connect virtually in a new, innovative, and sustainable way!
The 2020 conference will be NASPAA's first-ever virtual conference and occur as originally planned on Wednesday Oct. 14, Thursday Oct. 15, and Friday, Oct. 16. Attendees will be able to hear from live keynote speakers, engage in panel discussions live and on-demand formats, participate in workshops, and connect with colleagues new and old all in a new digital environment.
This year's theme, "Building the New Civic Square", is clearly timely and significant to every program. NASPAA received a record number of panel proposals this year! This is an amazing testament to the NASPAA community and public service education, and it reinforces the importance of our annual conference as an opportunity to convene – there are important issues, ideas, and research to discuss. The conference committee completed the difficult task of evaluating proposals, and notifications have been sent to all conveners on the status of submissions and the format of accepted proposals. 
We look forward to sharing a compelling agenda with relevant and enlightening sessions, where attendees will be able to engage with content, learn what other schools are doing, and connect with peers. Please stay tuned as we prepare for this new virtual experience… more details will be shared in the coming weeks.
Finally, NASPAA is thrilled to announce that next year we will be in Chicago, and we look forward to rebooting plans with our host schools for the 2021 conference in the Windy City.
FAQs
The virtual conference will take place during the same dates originally planned for the in-person event – Wednesday, Oct. 14; Thursday, Oct. 15; and Friday, Oct. 16, 2020. (Registered attendees will have access to the conference content through March 2021.)
The virtual conference will take place on a virtual conference platform, which is a specialized website where you will be able to engage with live and prerecorded sessions, visit exhibit booths, search the agenda, and interact with peers, speakers, and sponsors. We are calling the site the "NASPAA Virtual Conference Website". Registered attendees will be sent login information and will be able to join us from home, the office, or wherever!
The virtual conference will include live keynotes, panel discussions (both live and pre-recorded sessions in an on-demand library), opportunities to interact with speakers, and ways to connect with colleagues one-on-one and in group settings.
YES! The Accreditation Institute and other workshops will take place on Wednesday, Oct. 14. We are currently working out precise timing and format. More information will be shared in the coming weeks and the ability to attend the Accreditation Institute and most workshops will be included in the registration fee.
YES! NASPAA is pleased to be co-locating this year with the Section on Public Administration Education (SPAE) of American Society for Public Administration (ASPA)'s Teaching Public Administration Conference (TPAC). We look forward to SPAE members collaborating with NASPAA on issues related to research and teaching, especially in the context of civic engagement and inclusive societies.
As with NASPAA's past in-person conferences, there are opportunities to promote your program through the NASPAA virtual conference. The menu of offerings includes sponsorship, a virtual exhibit hall, and digital advertising. Learn more and make a reservation here.(Thank you to the #NASPAA2020 Sponsors thus far!)
NASPAA Committees and Sections, as well as other special groups such as JPAE and Pi Alpha Alpha will meet. We will be reaching out to all Chairs to schedule meetings and hope to have all meetings take place during the week of the conference. The schedule will be published so that all conference attendees can join any open meetings appropriate for their role and/or interests.
All participants, including panelists, will need to register for the virtual conference through Membersuite (just as you have for past conferences). There is a registration fee. Please know that we do recognize the financial restrictions many of our programs are currently facing (as well as the lower cost to host a virtual conference), so registration fees will be less than past in-person conferences. There is member/non-member/student pricing and an early bird opportunity for members (only $99!). Registration details are here. 
YES! The Annual Business Meeting will occur live at the conclusion of the meeting on Friday, Oct. 16, and it will include the election of new Executive Council members and the inaugural address from the incoming president.
Conference Committee Chair
Trevor Brown, Dean of the John Glenn College of Public Affairs at The Ohio State University is this year's conference chair. Trevor and the conference committee members look forward to planning an engaging and meaningful agenda and welcoming you to the new virtual environment.
Committee members:
Trevor Brown, The Ohio State University, CHAIR
Mohamad Alkadry, University of Connecticut
Roland Anglin, Cleveland State University
Brandi Blessett, University of Cincinnati
Madinah Hamidullah, Rutgers University - Newark
Roger Hartley, University of Baltimore
Christopher Koliba, The University of Vermont
Tina Nabatchi, Syracuse University
Ogochukwu Iruoma Nzewi, University of Fort Hare
Pablo Sanabria, Universidad de los Andes
Edmund Stazyk, University at Albany – SUNY