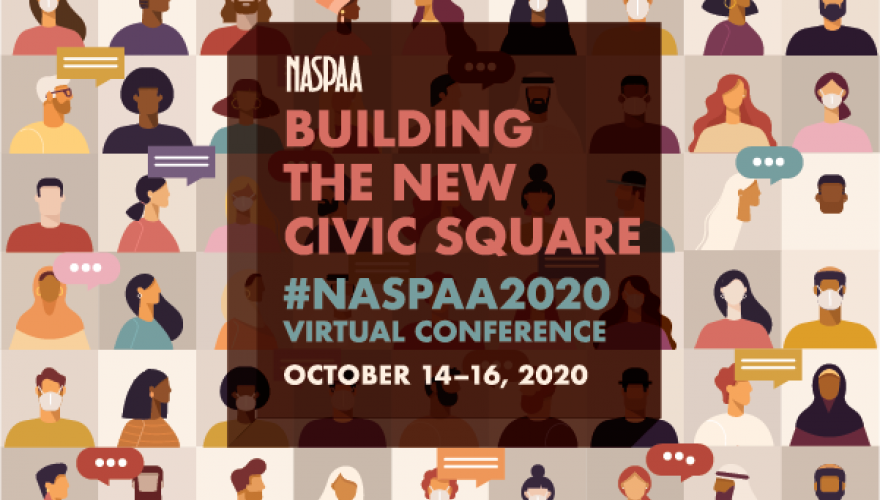 #NASPAA2020 IS VIRTUAL!
#NASPAA2020 will be an entirely new online experience where you will be able to share, learn, connect, and showcase in a safe and sustainable way. This year's theme is "Building the New Civic Square". Tune in for hard-hitting conversations, discussing voice in the civic square of 2020 America and the world, and on speaking truth to power in pandemic management and policy. This conference is an important moment for the NASPAA community and an opportunity for public service education to convene – there are important issues, ideas, and research to discuss. NASPA2020 starts tomorrow, Wednesday, Oct. 14 – Friday, Oct. 16 on the virtual event platform "Pathable."
Registrants can access all the content on Pathable from Monday, Oct. 5 through March of 2021 – 6 months of engagement!
FAQs
This year's conference is hosted on Pathable at naspaa2020.pathable.co. All registered attendees should have received an invitation from the email address "NASPAA2020 Virtual Conference <no-reply@pathable.com>" with a unique link to setup your account and create a password. If you have not received this email, please notify wanna@naspaa.org. Chrome is the recommended browser to use with Pathable.
Go to naspaa2020.pathable.co to sign in. You may wish to bookmark this site. Chrome is the recommended browser to use with Pathable.
If at any point you are having difficulty using the site or have a question, use the built in Pathable help feature. During the conference, we will have dedicated Pathable Support staff standing by exclusively for the benefit of NASPAA Conference attendees. Simply click the 'Get Support' under the Account tab and fill out the requested information. Someone will be in touch with you shortly and this is the fastest way to get efficient support. If however you are unable to access the site at all, please contact minkoff@naspaa.org.
Yes, we have opened "On-site" registration - HERE.
All participants, including panelists, will need to register for the virtual conference.
In NASPAA communications and graphics, we refer to specific session and meeting times in Easter Daylight Time EDT USA. However, when you view the Schedule in Pathable, all times will appear in the user's time zone.
Chrome is the recommended browser to use with Pathable. Additionally, make sure you install "Zoom Client for Meetings" from zoom.us/download.
If you are a "speaker" presenting on a panel, workshop, or Q&A session, you should have received a communication on how you will present. Please contact minkoff@naspaa.org if you have question, or view the guides on how to present HERE.
Navigate to the session you'd like to reserve or add to your schedule by finding it in "All Sessions" under the Schedule. Click to open the session's dedicated landing page. Click the orange "Reserve Spot" button in the upper righthand corner of the page.
To see all the sessions you have reserved, go to "My Sessions" under Schedule.
Navigate to the dedicated landing page of the session you wish to attend by looking at "My Sessions" or "All Session". If you haven't yet, click "Reserve Spot", then just before the meeting starts or if it's already in session, click "Join Meeting" button which will appear in the upper right hand corner.
Conference Committee Chair
Trevor Brown, Dean of the John Glenn College of Public Affairs at The Ohio State University is this year's conference chair. Trevor and the conference committee members look forward to planning an engaging and meaningful agenda and welcoming you to the new virtual environment.
Committee members:
Trevor Brown, The Ohio State University, CHAIR
Mohamad Alkadry, University of Connecticut
Roland Anglin, Cleveland State University
Brandi Blessett, University of Cincinnati
Madinah Hamidullah, Rutgers University - Newark
Roger Hartley, University of Baltimore
Christopher Koliba, The University of Vermont
Tina Nabatchi, Syracuse University
Ogochukwu Iruoma Nzewi, University of Fort Hare
Pablo Sanabria, Universidad de los Andes
Edmund Stazyk, University at Albany – SUNY