NASPAA's 50th Anniversary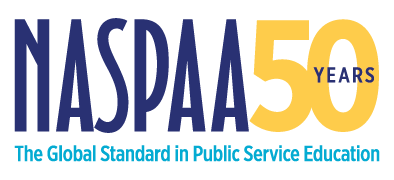 NASPAA is excited to celebrate 50 years!
The 2019 NASPAA Annual Conference in October will be an opportunity to reflect on the advancements and changes in the last 50 years and look forward to the next 50 years of public service education. The Call for Proposals  is still open, and the committee is especially interested in retrospective panels that reflect on the progress our schools and the field have made in the last 50 years. Check back for details on the 50th anniversary luncheon celebration and other activities.
50 Years of NASPAA Photos

 
We are interested in your school's historical photos from 50 years ago especially those that show NASPAA schools "in the old days" with old cars, computers, or haircuts. Do you have action shots of your students and faculty doing things? Please share with us your high resolution photos, so we can use your images in a 50th montage or other features. Email elliott@naspaa.org.