NASPAA's 50th Anniversary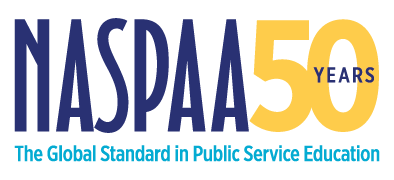 NASPAA is excited to celebrate 50 years!
The 2019 NASPAA Annual Conference in October will be an opportunity to reflect on the advancements and changes in the last 50 years and look forward to the next 50 years of public service education.
As part of this year's conference, all past presidents are being invited to attend, and will be recognized at our anniversary luncheon. NASPAA's past presidents have contributed much to NASPAA, and to our field. Here's a sneak preview of how great it will be to have so many of NASPAA's past leaders come together to reflect on the development of our field over the last half century. Here is Ethel Hill Williams, president of NASPAA 2013-14, and Professor Emerita at the University of Nebraska Omaha, on a podcast. As the Academics of PA website describes, her podcast features her talking about "...the importance of providing support to PhD students, her experience as university administrator, and failing to maintain a work-life balance, but still doing something for yourself. She also talks about the status of research on social equity and diversity and how both the field and the academy are living up to the need to be inclusive." https://academicsofpa.podbean.com/
50 Years of NASPAA Photos

 
We are interested in your school's historical photos from 50 years ago especially those that show NASPAA schools "in the old days" with old cars, computers, or haircuts. Do you have action shots of your students and faculty doing things? Please share with us your high resolution photos, so we can use your images in a 50th montage or other features. Email elliott@naspaa.org.