#NASPAA2021 Conference Format and Survey Results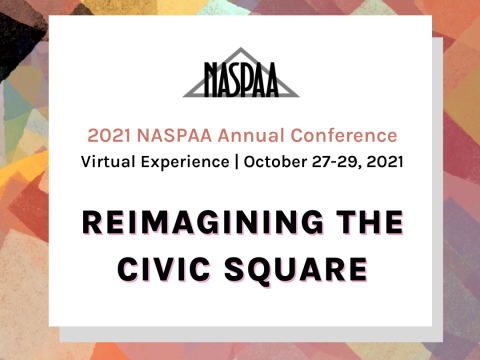 The 2021 NASPAA Annual Conference will be primarily an online experience where you will be able to share, learn, connect, and showcase in a safe and sustainable way. If some pandemic restrictions are lifted by early September, NASPAA will seek to add in-person components as we are able-- please see format options below. Taking place on our online conference platform, Pathable, attendees will be able to engage with live and prerecorded sessions, schedule meetings, search the agenda, and interact with peers, speakers, and sponsors. All presentations through the platform will integrate with Zoom. Most sessions will take place between 11:00 am – 5:00 pm Eastern Daylight Time (EDT) USA on October 28 and 29, 2021.
This conference is an important moment for the NASPAA community and public service education to convene – there are important issues, ideas, and research to discuss.
Thank you to the 519 respondents that participated in the 2021 NASPAA Conference Format Survey. Your feedback was extremely valuable to guide our Executive Council's decision that the conference will be primarily virtual.
Key Survey Findings:
Factors Influencing Attendance: 35% agreed or strongly agreed that their universities would allow travel by Oct. 2021 and a similar 38% thought they would have funding to do so. While 30% disagreed or strongly disagreed that their universities would allow travel and 34% thought they would not have funding available.
Anticipated Behavior: 40% said they would participate in an Oct. 2021 conference in Chicago, while 30% said they would not. If held virtually, 74% said they would participate and 10% said they would not. When asked whether NASPAA should plan a primarily virtual or in-person experience, 34% said in-person and 66% said to plan virtual.
Preferences: When asked what formats were preferred in a virtual conference, the top two preferences were for all panels presented live with short Q&As and opportunities to join small group discussions on specific content/theme. 149 people indicated interested in convening locally to present and/or attend a panel in person.