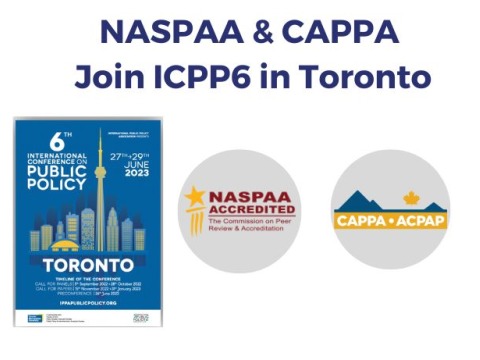 NASPAA was honored to join the Canadian Association of Programs in Public Administration (CAPPA) to discuss accreditation on Monday, June 26, 2023 at the Policy Leaders event of the 6th International Conference on Public Policy (ICPP6) in Toronto.
Organized by the International Public Policy Association (IPPA), ICPP6 was hosted by the Toronto Metropolitan University's Faculty of Arts and Public Policy graduate studies programs in the University's premises in downtown Toronto from June 27 to 29, 2023, with a Pre-Conference on June 26. 
As part of Pre-Conference activities, Martha Bohrt, NASPAA Chief Accreditation Officer, and Geneviève Tellier, President of the CAPPA Accreditation Board, joined the Policy Leaders event to provide updates and trends in accreditation. Participants included faculty and administrators from academic institutions from across the globe. Some of the topics covered included the value of accreditation; the increasing interest in undergraduate degrees to prepare students for graduate public policy programs; and the changing skills needed to succeed as a public policy professional.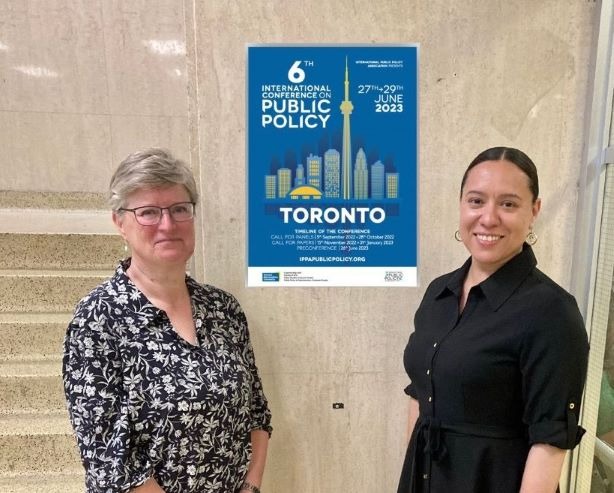 NASPAA appreciates the invitation and is particularly grateful to Dr. Leslie Pal, Dean of the College of Public Policy at Hamad Bin Khalifa University, for making this opportunity available. We look forward to continued collaboration with IPPA, CAPPA and their members. 
To learn more about NASPAA Accreditation, click here. 
To learn more about IPPA, click here. 
To learn more about CAPPA, click here.