On the Importance of Cultural Competency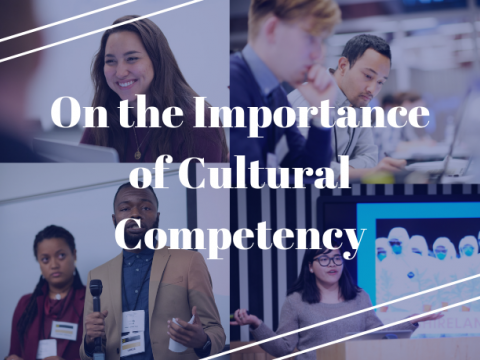 At NASPAA, we are united by a commitment to public service. With globalization changing the face of local communities, it is more important than ever that those committed to the public good can effectively advocate for all members of society.
NASPAA has members in more than 30 countries and has accredited programs in 5 continents. The 2019 NASPAA-Batten Student Simulation Competition was hosted in 6 countries with students from all over the world. NASPAA programs and students are global, so those in public service education must be able to interact with beliefs, cultures, and backgrounds different from their own. A 2014 article in the Journal of Public Affairs education stated: "[a]s we prepare students for positions of responsibility and leadership in public service, it is essential that we provide them with skills to demonstrate accountability and results within their own organizations and that we model what we teach through our own systematic and thoughtful assessments" (Rubaii, Calarusse, 2014, p. 287). It is evident that NASPAA programs and students must be culturally competent.
According to the U.S. Department of Health and Human Services, "practicing cultural competence to honor diversity means understanding the core needs of your target audience and designing services and materials to meet those needs strategically" (Office of Adolescent Health). Wherever they might end up working, our graduates must contend with diversifying communities and respond to the needs of all members of society who are impacted by their work. Cultural competence is a necessary skill for interacting productively with a diverse and changing society.
At NASPAA, we strive to embody this sentiment by celebrating the diverse face of public service wherever possible. Programs that are accredited by NASPAA must  foster and support a climate of inclusiveness on an on-going basis (SSI, page 24). Our PhD Pathways Initiative seeks to increase the number of under-represented minorities with PhDs in the public service field through better access to information. Newly, NASPAA is introducing a consulting project specifically for minority-serving institutions. Cultural competence is a skill that must be practiced, and it is a choice that must be made, over and over again.
Public service is a field of innovators and passionate workers. At NASPAA, we are proud of the diverse students who graduate with goals of making the world a better place, and we are proud of the programs that prepare them to achieve those goals. As the challenges of effective public service change, our organization and members will adapt to meet them.
Sources:
Office of Adolescent Health. (2018, August 28). Cultural Competence. Retrieved from https://www.hhs.gov/ash/oah/resources-and-training/tpp-and-paf-resources/cultural-competence/index.html
Rubaii, N., & Calarusse, C. (2014). Preparing Public Service Professionals for a Diverse and Changing Workforce and Citizenry: Evaluating the Progress of NASPAA Programs in Competency Assessment. Journal of Public Affairs Education, 20(3), 285–304. https://doi.org/10.1080/15236803.2014.12001789