2020 NASPAA Annual Conference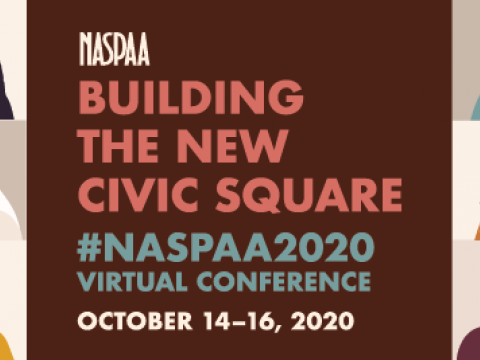 #NASPAA2020 Virtual Conference
#NASPAA2020 will be an entirely new online experience where you will be able to share, learn, connect, and showcase in a safe and sustainable way. This year's theme is "Building the New Civic Square" and you can expect hard-hitting conversations, discussing voice in the civic square of 2020 America and the world, and on speaking truth to power in pandemic management and policy. This conference is an important moment for the NASPAA community and public service education to convene – there are important issues, ideas, and research to discuss. NASAPA2020 starts this Wednesday, Oct. 15 – Friday, Oct. 16 on the virtual event platform "Pathable."
FAQ
Q: How do I access the NASPAA Virtual Conference?
A: This year's conference is hosted on Pathable at naspaa2020.pathable.co. All registered attendees should have received an invitation from the email address "NASPAA2020 Virtual Conference <no-reply@pathable.com>" with a unique link to setup your account and create a password. If you have not received this email, please notify wanna@naspaa.org. Chrome is the recommended browser to use with Pathable.
Q: How do I return to the NASPAA Conference website on Pathable?
A: Go to naspaa2020.pathable.co to sign in. You may wish to bookmark this site. Chrome is the recommended browser to use with Pathable.
Q: How will I attend specific sessions at the virtual conference? Are you sending me a Zoom link?
A: No. Panels must be accessed through the conference website at naspaa2020.pathable.co. Navigate directly to the panel and click JOIN MEETING in the upper right-hand corner of the panel page. Panels can be found under Schedule tab in 'All Sessions' or 'My Sessions' if you have registered for the panel. (The workshops and live Q & A sessions will "pop-out" into a Zoom meeting, but you must access this through Pathable.)
Q: What if something is not working, and I need tech support once in the site?
A: If at any point you are having difficulty using the site or have a question, use the built in Pathable help feature. During the conference, we will have dedicated Pathable Support staff standing by exclusively for the benefit of NASPAA Conference attendees. Simply click the 'Get Support' under the Account tab and fill out the requested information. Someone will be in touch with you shortly and this is the fastest way to get efficient support. If however you are unable to access the site at all, please contact minkoff@naspaa.org.
Q: What time zone are we using in Pathable?
A: In NASPAA communications and graphics, we refer to specific session and meeting times in Easter Daylight Time EDT USA. When you view the Schedule in Pathable, all times will appear in the user's time zone.
Q: How can I ensure the best technical experience?
A: Chrome is the recommended browser. Additionally, make sure you install "Zoom Client for Meetings" from zoom.us/download.
Q: Are there instructions for Speakers?
A:If you are a "speaker" presenting on a panel, workshop, or Q&A session, you should have received a communication on how you will present. Please contact minkoff@naspaa.org if you have question, or view the guides on how to present HERE.
"ON-SITE" Registration OPEN!
Did you forget to register? No worries! You can still join NASPAA2020.
Registering now   NOTE: Within 2 hours of registering (business hours), you will be sent an email invitation to join the virtual conference from "NASPAA2020 Virtual Conference (no-reply@pathable.com)."
Learn more about the NASPAA Conference