Enhancing Public Service Education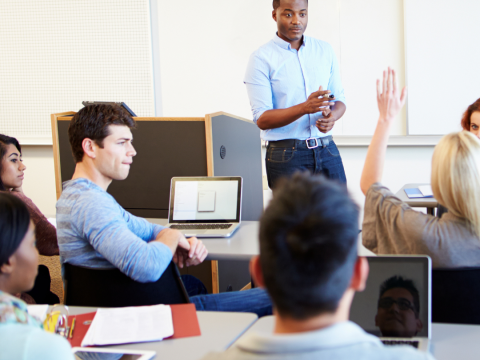 Last month, NASPAA debuted its strategic plan. Over the next several months, we'll introduce each focus area in the strategic plan. This month we're highlighting the first goal "Enhancing Public Service Education."
For over 50 years, NASPAA has been dedicated to ensuring excellence in education and training for public service. It is at the core of everything we do. The focus areas under this goal reflect this commitment by strengthening our core services (objective 1.1), broadening our professional development offerings (objective 1.2), and expanding our community for peer learning (objective 1.3)
NASPAA is well-known for its core services for its membership. Our annual conference is one of the many ways we engage and provide value to our members. We are dedicated to improving the conference and offering panel sessions that help move public service education forward. For the first time, NASPAA staff will adopt conference learning objectives to measure and evaluate the effectiveness of conference programming beyond the conference evaluation survey. We also host yearly Admissions and Career Professionals meetings. We intend to determine if these meetings are still effective. Each meeting nets less than 50 registrants. Are there other ways to provide a platform for these staff professionals? The bottom line, we are reviewing the effectiveness of core services to ensure that we're still meeting membership goals with the suite of products we're offering our members.
Teaching and learning are at the core of what our members do, and NASPAA strives to provide them with resources to improve teaching and learning in their programs. NASPAA will soon release its inaugural Champion Class series with its first champion within the next few months. The Champion Class is built on a Masterclass model, highlighting public servants across all levels of government and types of nonprofits. We are committed to disseminating teaching and learning programs to enhance the field of public service. One such example is our yearly simulation. We recently completed our first onsite sim since COVID. We hope to cultivate new funding sources that will allow us to increase the number of simulation competitions. We believe that federal agencies or companies that regularly secure business from the public sector should be willing to invest in training the next generation of public sector leaders.
NASPAA NEXT has been our signature professional development tool for up-and-coming academics for many years. We need to seek ways to increase the professional development opportunities we're offering our network. We see this as a critical way to reach those interested in career growth. This is only one of the many things we're considering to help develop our members. Investing in our members will only improve the quality of student instruction.
Finally, we seek to enhance our peer learning opportunities. Offering paid pre-conference workshops may be an option to broaden our offerings to our members on the many pressing issues facing public service education. Webinars are another option to strengthen our reach and develop our ability to address problems as they arise. For instance, many of our members need direction on effectively dealing with the challenges related to CRT and DEIJA issues. NASPAA seeks to build its ability to respond more quickly to our network's challenges. We think providing more professional development and learning opportunities more than once a year is the way to meet this focus area's goals effectively.
We look forward to working collaboratively with you to find the most effective and efficient methods to provide our members with offerings that meet their needs and promote the goals outlined in our strategic plan.  Thank you for partnering with us we continue to improve public service education and promote the goals of public service.