Diverse Champions of Public Service Values: NASPAA Accredited Programs Around the World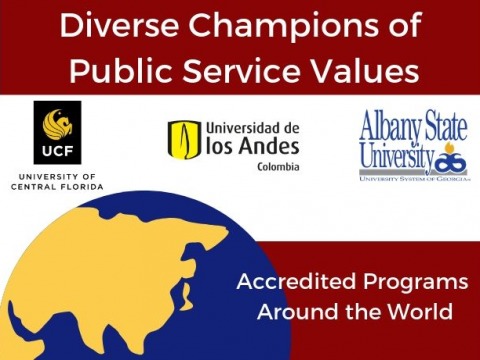 NASPAA's Commission on Peer Review and Accreditation accredits 202 programs from around the world. These programs are of all different sizes and specializations, and the graduates from these programs thrive in a diverse set of careers. In 2017-2018, programs reported 48% of graduates entered the government sector, 17% entered the private sector, and 23% entered the nonprofit sector. With this diversification of graduate outcomes, there is still one thing that unites every NASPAA accredited school: a commitment to public service values. Every graduate from an accredited program is instilled with the values to lead with integrity, transparency, and accountability. Here are some incredible NASPAA accredited programs that promote public service values in unique ways.
University of Central Florida's Master of Nonprofit Management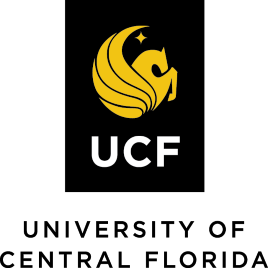 In 2018, the University of Central Florida's Master of Nonprofit Management (MNM)  became the first nonprofit management program to receive accreditation from NASPAA. Located in sunny Orlando, Florida, the program connects students with community organizations to develop MNM graduates' skills while also increasing the capacity of local nonprofits. With more than one-fifth of NASPAA grads entering into the nonprofit sector after graduation, UCF's MNM is paving the way for many programs like it to join the NASPAA Accredited community.
UCF MNM graduates regularly engage with public service values during their course of study. According to Yasmyn Chambers, Communications Coordinator, UCF's School of Public Administration, "courses are designed to engage students in hands-on learning opportunities that further solidify their understanding of public service values and how to engage within the nonprofit sector."  These hands-on learning opportunities have aided students who have gone on to start their own nonprofit organizations. One recent graduate, Jaha Dukureh, became a Nobel Peace Prize Nominee after founding her nonprofit Safe Hands for Girls, an organization working to end female genital mutilation and child marriage in Sierra Leone, The Gambia, and Atlanta, Georgia. UCF's Master of Nonprofit Management proves that integrating public service values into programs can have amazing real-world outcomes.
Albany State University's Master of Public Administration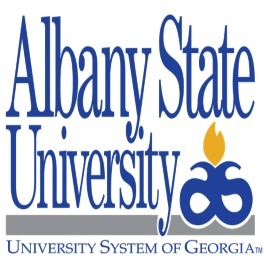 Albany State University (ASU) is an HBCU located in the southern half of the state of Georgia. Home to the Lois B. Hollis Center for Social Equity, students at Albany State University's MPA program are invited from day one to work directly within their community to promote social equity. The center strives to help students become socially-conscious leaders through deliberation training, data services, development and other public service efforts. Most of ASU's student body hold full time jobs while working towards their MPA. 79% work in local, state, or government positions, 16% work in the private sector positions, and 5% work in domestic nonprofit positions. ASU's MPA program teaches skills that can be applied in all of these sectors.
Public service values are at the forefront of ASU's MPA program, and they shape the way the program hires faculty, teaches students, and encourages student professional development. According to Dr. Peter Ngwafu, Director of ASU's MPA program, "we champion social equity, diversity and inclusiveness in the curriculum." They are home to a diverse faculty, with members representing both international and local perspectives, and they encourage leadership and public speaking skills through their founding of a local Toastmasters chapter. ASU showcases some of the innovative ways through which public service values can be incorporated into an MPA program.
Universidad de los Andes' Master of Public Policy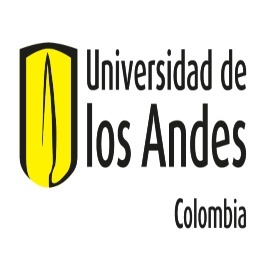 Based in Bogotà, Universidad de los Andes is home to a NASPAA accredited Master of Public Policy program, the first program to earn accreditation in Colombia. The MPP program is teaching graduates to be critical thinkers, a skill that will help them in facing the complex problems of today's public sector. With an emphasis on both qualitative and quantitative studies, Universidad de los Andes' MPP graduates are well-equipped to employ evidence-based decision making skills in any career they may choose. More than half of the program's alumni have gone on to work in government, while other graduates have left to start foundations, like Diego Escalon, an MPP alum who began a foundation dedicated to helping students in need finish their college degrees. 
Universidad de los Andes acknowledges the difficult issues graduates will be tasked with solving in the public sector, so they encourage students to develop a well-rounded set of skills to effectively manage these challenges. According to Pablo Sanabria, Associate Professor and Graduate Programs Director at Universidad de los Andes' Alberto Lleras Camargo School of Government, "We aim for our programs to have an actual impact in our communities. We want our students to be innovative and to design creative solutions to the wicked problems that they will encounter in public service." Public service values drive evidence-based analysis at Universidad de los Andes' MPP, which shows just one more way that public service values underpin progress at NASPAA schools around the world.