COPRA Honors Dr. Nadia Rubaii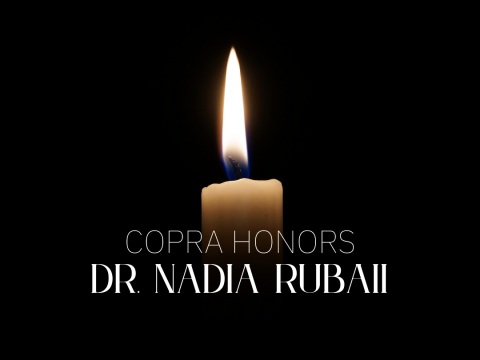 The Commission on Peer Review and Accreditation (COPRA) met June 7-9, 2022, in Portland, Oregon to make accreditation decisions regarding the 2021-2022 Cohort. Decisions will be released by the end of July 2022.  
This year's meeting involved discussions and topics that reiterated to the Commission the influence, dedication, and service to accreditation that our dear friend and colleague, Nadia Rubaii had. Nadia was a guiding resource and a strong advocate for programs across the globe to reach their full potential, whose legacy in the world of accreditation impacts every step of the process, from program representatives to site visitors, to the Commissioners themselves.
The Commission offers the following statement in honor of Nadia:
COPRA deeply laments the loss of Nadia Rubai. Nadia was a vigorous leader and served in many roles at COPRA and NASPAA. She was both a member and chair of COPRA, she served several times as Site Visitor and Site Visit Chair, and contributed to numerous committees and task forces, from the Standards Committee to the Social Equity & Diversity Committee and the Taskforce for Standards Implementation. Nadia always went above and beyond, leaving an invaluable legacy to NASPAA members. She contributed to set high-quality standards for global public affairs education; she served to amplify NASPAA as a global network, and always promoted the importance of capacity building in the process of accreditation. She was a mentor to many NASPAA members and programs, and was a role model of peer collaboration for continuous improvement in our profession. She was also a loving, caring and generous human being. In our recent June COPRA meeting, we honored Nadia Rubai and acknowledged many of the lessons she gave us. We are grateful for her life and we will always miss her.
The Commission on Peer Review and Accreditation honors Nadia's life, legacy, and impact. NASPAA's statement on Nadia's passing can be found here.