2019 San Juan Conference on Emergency Management Education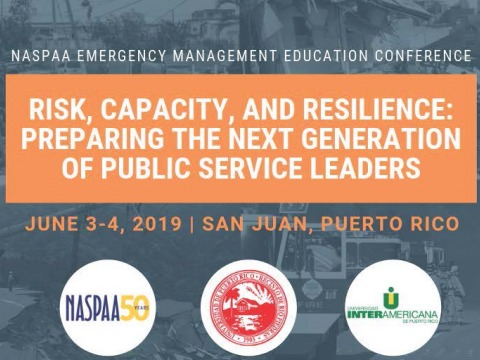 There is no use dwelling on what cannot be controlled, so NASPAA's 2019 Emergency Management Education Conference was about preparing for the things that can be controlled. While emergencies are, by their nature, unexpected and unavoidable, emergency responses are meticulously planned and strategically executed. In Puerto Rico, the site of Hurricane Maria's landfall in 2017, the population has bred resilience in response to disaster. To learn about the field of emergency management education, there was no better environment than San Juan, Puerto Rico.
NASPAA was thrilled to host the 2019 Emergency Management Education Conference in San Juan, Puerto Rico from June 3-4. The Conference was put on with the invaluable assistance of NASPAA President Palmira Rios, (University of Puerto Rico- Río Piedras)-. The Conference would also not have been possible without support from our generous sponsors: InterAmerican University of Puerto Rico, University of Puerto Rico, and the Office of the Mayor of San Juan. With their help, 45 attendees represented multiple schools and public organizations throughout two full days of learning and discussion. 
On the first day of the Conference, attendees were invited on a field trip through areas impacted by Hurricane Maria, which was followed by an opening ceremony featuring a presentation by the Mayor of San Juan, Carmen Yulin Cruz. On day two, attendees put in a full day of work discussing issues such as the growing dependence of society on technology, intergovernmental cooperation, and vulnerable populations and resilience. A highlight of the trip was poster presentations by the student finalists and the winner of NASPAA's emergency management poster competition. These students had the opportunity to learn alongside experts of the field, while also sharing their impressive work with those attending the conference.
A theme that encapsulates the weekend is this: places matter. NASPAA and our partners worked hard to create a place where important discussions about emergency management education could occur. We chose San Juan as the setting for these discussions to give real-world context to each of the ideas presented. Moving beyond pure theory, NASPAA's conference allowed students, academics, and practitioners alike to see how their work informs the policy process and, consequently, the real people whose lives are impacted by those policies. After two days of invaluable information sharing came to a close, the attendees returned home bringing with them the ideas generated at NASPAA's 2019 Emergency Management Education Conference.