Thank You to Our Site Visit Volunteers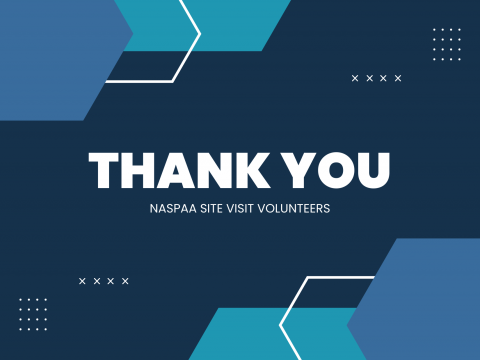 We would like to give another big thank you to our NASPAA site visit volunteers for all of their hard work this past site visit cycle. They have given hours upon hours to the accreditation process and to upholding quality standards of public service education. We are so grateful for their contribution to the entire field of public service. Site visitors, thank you for volunteering your time, dedication, and expertise to this process. Carrying out the site visits this year wouldn't have been as successful with your involvement.
The work COPRA does at biannual meetings also would not be possible without the incredible contributions of our volunteer site visitors. Site visitors are the eyes and ears of COPRA. These hard-working volunteers travel around the world (physically and virtually) to programs carrying with them an extensive knowledge of the Standards and how they can be applied. Over this past site visit cycle alone, we had 99 site visitors each contributing roughly 32 hours per visit. Each of these site visitors is essential to the continuation of NASPAA's peer-review accreditation process, and we are so thankful for the care they take in supporting programs.
Sometimes it takes a village, and in the case of accreditation that is certainly true. The process of accreditation would not be possible without the invaluable contributions of our site visitors that each year allows NASPAA to grow the number of quality programs on the Roster of Accredited Programs, a list that totals more than 200 strong. To all of the site visitors who have served- WE THANK YOU!