New NASPAA Accreditation Standards Approved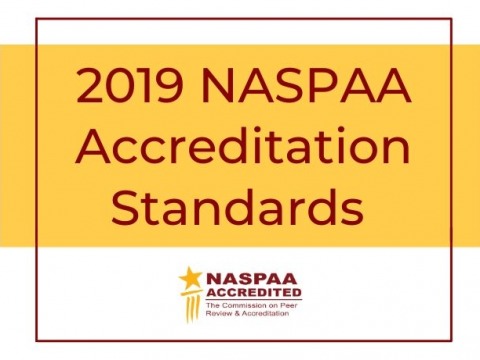 From Robert Orr, NASPAA President, 2019-20
Dear Colleagues,
Together with my colleagues on the NASPAA Executive Council and NASPAA Standards Committee, I am pleased to announce that on October 18, 2019, representatives of accredited programs at the NASPAA Annual Business meeting approved the 2019 NASPAA Accreditation Standards*. The Standards culminate a two-year conversation about the scope of the accreditation standards and their impact on public service education. They celebrate the growth in our field over the last 10 years, sharpening our expectations for student learning and renewing our commitment to what makes us unique -- public service values.
Since 2009 and the last generation of NASPAA standards, we've come to rely on an increasingly multisectoral workforce to serve public needs and solve public problems. Data is everywhere, and the next generation has to understand and marshal it for public purposes, and to protect the individual. Every school of public service must prepare the next generation for the global effort to advance sustainable development -- protecting the planet while trying to improve citizens' economic and social well-being. This sustainability commitment is being integrated into governance, and we must train students to be forensic in defense of effective governance, to act transparently, with accountability, and actively encouraging participation in civic life. And then, we measure inclusion not just by who is present, but by whether they are participating. The 2019 Standards reflect these trends:
Nonprofit at the Core: the Standards establish nonprofit management as fundamental to public service education. Changes to language throughout the Standards, including the universal required competencies, explicitly integrate the third sector.

Global accreditation: the Standards highlight critical public service values such as transparency, accountability, participation, and equity, which align with NASPAA's goals to support effective, accountable, and inclusive institutions, and serve as hallmarks of public service worldwide.

Cultural Competency: Also important in the global public service values discussion, the Standards incorporate equity, support, retention, and responsiveness into the Standards, retaining the flexibility necessary to accredit in different contexts, while emphasizing the role diversity, equity, and inclusion must play in public service education.

New Developments: The Standards target the universal required competencies to ensure they are as multisectoral as the field of public service, rigorous with regard to critical analysis and decision-making, and adaptable to the rapidly changing needs and environments of the field, be they technological, geographic, or otherwise.
With the Standards approved, NASPAA now turns to implementation. In the background of this process, the Standards Committee and COPRA have been working together to align policies and the 2019 iteration of the self-study instructions to the 2019 Standards, which will be released in December. It is our first priority to ensure that forthcoming policies and guidance maintain a critical balance in accreditation: enhancing the inclusivity, flexibility, and global scope, without increasing the burden on schools, or making it harder than it has been to attain accreditation. NASPAA's longtime commitment is to strive to be formative and developmental in our accreditation process, not exclusionary or punitive, and we will continue that tradition as we implement the 2019 Standards. 
I would like to extend my thanks to our colleagues who participated at each step of this process, most specifically the many, many individuals who offered feedback through surveys and colloquia sessions, as well as the Standards Colloquium Steering Committee, Standards Committee, and Executive Council, who led these discussions and collaborated to ensure the 2019 Standards continue our tradition of ensuring academic quality, a commitment to public service values, and cutting edge competencies.
I sincerely look forward to serving as your NASPAA president over the next year as we continue to grow our network, strengthen global partnerships, share best practices in teaching and learning, and usher NASPAA into its next 50 years as a global leader.
With thanks,
Robert Orr
NASPAA President, 2019-20
*Implementation guidance for the 2019 NASPAA Standards is forthcoming (as of October 31, 2019).