NASPAA South Asia Virtual Conference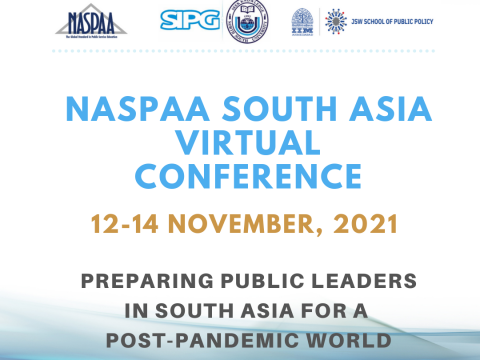 NASPAA SOUTH ASIA VIRTUAL CONFERENCE
12-14 NOVEMBER 2021
Call for Proposal 
PREPARING PUBLIC LEADERS IN SOUTH ASIA FOR A POST-PANDEMIC WORLD
With about a fourth of the world's population, South Asia presents unique opportunities and challenges for public service. Although the region has experienced economic growth in recent decades, the challenges to providing better governance remain unchanged. As South Asian countries continue to grapple with the Covid-19 pandemic, public leaders face uniquely unprecedented challenges for governance. The response to the Covid-19 pandemic has exposed poor governance, ill-prepared public institutions, and poor policy-making. Inadequate policy development and implementation have impeded an effective response to the crisis. The lack of governance capacity and legitimacy between government and citizens create obstacles for a well-functioning government crisis-management system. These dynamics add to the obvious grim consequences of the pandemic, thus jeopardizing future economic growth in the region.
It is clear that, going forward, countries in South Asia will need to be more innovative in designing policy and development initiatives that are more inclusive, efficient, and environmentally sustainable. Citizens expect public-sector leaders to govern, guide, and facilitate during and after crises to ensure public service delivery and to sustain economic growth and employment. This involves preparing future public leaders for likely complex and volatile scenarios, but also engaging current leaders to apply lessons during the current crisis to prepare for unanticipated crises in the future. Preparing public-sector leaders will be key to dealing with future crises. The question thus arises – Is public administration and policy education in South Asia adequate in preparing their students to handle a postpandemic world? The 2021 Virtual NASPAA South Asia Conference in November 2021, to be organized by NASPAA; the South Asian Institute of North South University, Bangladesh; and the JSW School of Public Policy at the Indian Institute of Management, Ahmedabad, India, aims to bring together academics, practitioners from civil society, and representatives from the private sector from South Asia to virtually share lessons learnt from the Covid-19 pandemic and to discuss ways to prepare public leaders for a post-pandemic world that could be 'volatile, uncertain, complex, and ambiguous (VUCA).
The conference will focus on the key questions:
What should be the role of public policy-making in an uncertain world?
How can public policy and public administration training in South Asia contribute toward dealing with a post-pandemic world?
Can collaborative governance help in a post-pandemic uncertain future?
The 2021 Virtual Annual Conference will convene scholars, practitioners, and students from the South-Asia region and around the world virtually to ensure as many voices as possible to contribute to the discussions. We invite proposals for fully-formed panels and individual papers. The suggested themes for the conference are:
Managing Pandemic in South Asia-Covid and Beyond: Lessons for the Future
Adaptive Policy-Making in an Uncertain World
Learning from the Pandemic for Realigning Public Policy and Public
Public Administration Education in South Asia
Leveraging Technology for Governance in a Post-Pandemic World
Information/Data Literacy for Informed Policy Decisions
Preparing Public Leaders for Future Epidemics and Natural Disasters
Collaborative Governance for Crisis Management and Emergency Preparedness
Crises Management and Communication Strategies
Reforming and reimagining Governance institutions in the post pandemic World
Open track relevant to the overall theme of the conference
Important Dates and Contact Details:
Deadline for individual paper abstract: August 22, 2021
Deadline for panel proposal: August 22, 2021
Decision on paper and panel submission: September 19, 2021
Deadline for submission of draft paper: November 5, 2021
Conference Date: November: 12-14, 2021
Email for submission of abstract, panel proposal, draft paper and general enquiries: naspaa.conf21@northsouth.edu.