Create Your Own Online Simulations for Your Class or Publication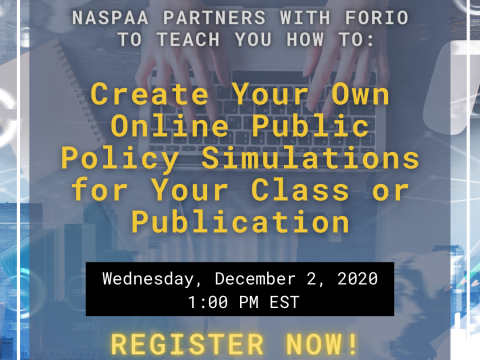 Attention Faculty: Building Simulations has never been easier! This is your opportunity to customize web-based tools that will enhance the student learning experience.  
Forio Epicenter makes it easy to produce an online simulation that works on both laptops and smartphones.
During this workshop, we will start with an introduction to Epicenter and sample interactive online public policy simulation. Then we'll teach you how to get your model on Epicenter so it can be shared. After we show you how to get your model online, we'll focus on creating a user interface for your model.
Topics covered will include:
• Single-player turn-based simulations • Multiplayer simulations • Scenario planning simulations
Single-player, turn-based simulations are a very popular type of simulation because they are easy to build and can be run asynchronously by learners. Multiplayer games are an exciting way to provide leadership, teamwork, negotiations, and executive training. Scenario simulations let users simulate the outcome of decisions in the future. Each set of decisions and outcomes creates a new scenario and the simulation compares the strengths and weaknesses of each scenario created.
We hope you can join us on December 2 at 1 PM EST!