Admissions Professionals Meeting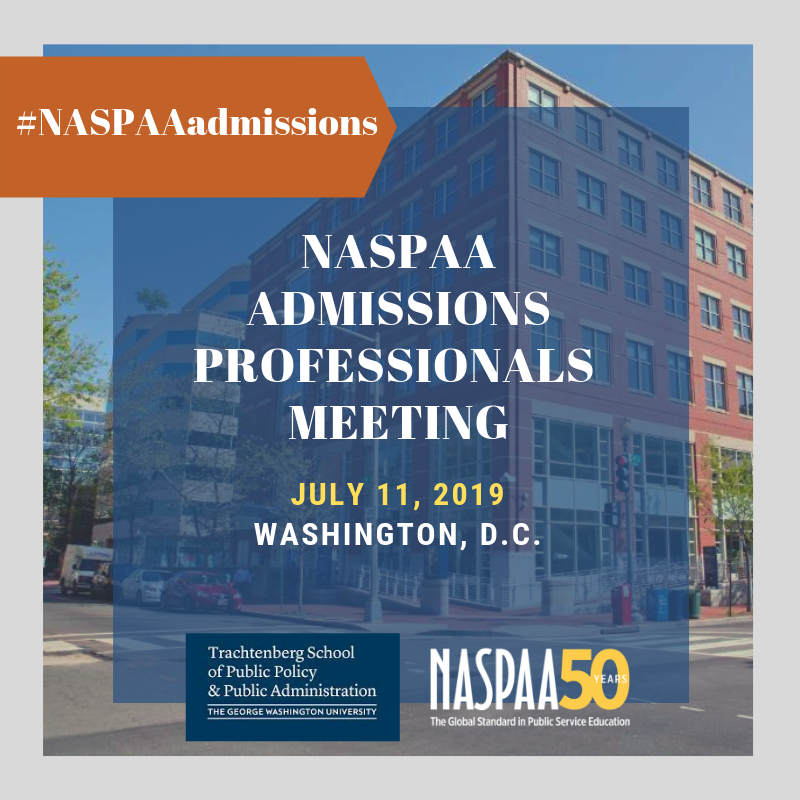 2019 Admissions Professionals Meeting - Registration open!
The meeting will be hosted by The George Washington University, Trachtenberg School of Public Policy and Public Administration on Thursday, July 11th, 9:30 AM- 5:00 PM.
NASPAA's Admissions Professionals Meeting is a one-day annual gathering, typically the day prior to the PPIA EXPO in Washington DC in mid-July, for member schools to discuss issues pertaining to admissions, such as recruiting and financial aid. NASPAA will present the findings from its annual membership survey on admissions and new enrollment. Program directors from schools without dedicated admissions staff are welcome!
Registration fee is $35.  This includes continental breakfast and lunch. 
Thank you to the Trachtenberg School for hosting and the program planning committee. 
2019 Admissions Meeting Planning Committee:
Lindsey Duble-Dice (CHAIR), The George Washington University
Amber Palmer-Halma, The George Washington University
Cara Y. Robinson, UNC-Chapel Hill
Michael Harris, Tennessee State University
Carrie Nordlund, Brown University
Taryn Faulkner, University of Maryland
Jennifer Forney, American University
Elaine S. McBeth, The College of William and Mary
Alex Thomas, University of Arkansas
Merida Escandon Gasbarro, The New School