Advancing Quality and Innovative Teaching & Learning for Public Service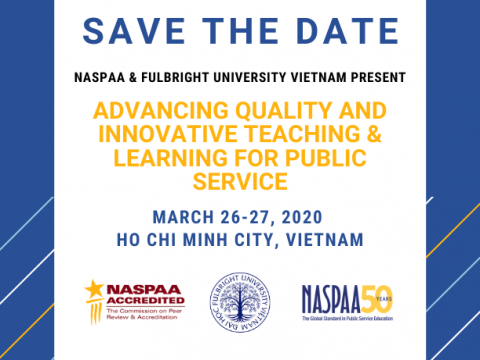 We are pleased to invite you to join NASPAA and your colleagues in Ho Chi Minh City on March 26 & 27, 2020!
The Advancing Quality and Innovative Teaching & Learning for Public Service conference, hosted in collaboration with Fulbright University Vietnam, seeks to support program development in strategic management and pedagogy across two days: 
Day 1: will focus on a hands-on workshop on strategic program management, including evaluating program mission and outcomes, promoting diversity and inclusion, and navigating the NASPAA accreditation process. Registered participants will have the option to request a one-on-one meeting with the workshop facilitator to ask program-specific questions. 

Day 2: will focus on sharing best practices in innovative pedagogies, including using student simulations and case studies as tools for student teaching and learning. Participants will hear a variety of perspectives and practices from experts in our field.
Both days are designed to provide you with the tools to strategically grow your program and practical ideas to implement at your home institution. 
The event is open to anyone interested in these topics and will be delivered in English. 
This is a unique opportunity to engage with NASPAA's global network. We look forward to welcoming you to Vietnam!
Check back soon for more details about the upcoming conference. 
For questions about this event, please contact copra@naspaa.org.