2021 NASPAA-Batten Student Simulation Competition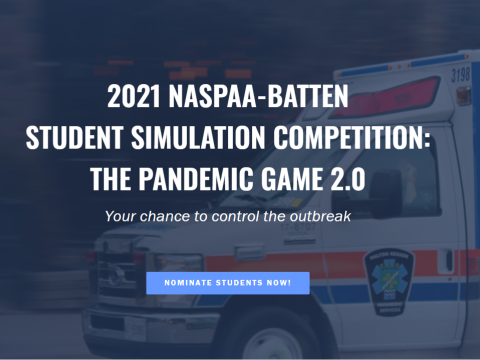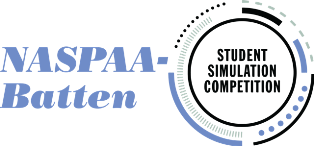 The nomination phase for the annual NASPAA-Batten Student Simulation Competition is now open. The competition will be held in an all virtual format. Competition dates will be organized by time zone. Different schools are sponsoring the NASPAA-Batten Simulation Competition on different dates. See list of sponsors below.
  February 20, 2021: Middle East/Africa/ Europe Time Zone
  February 27, 2021: North/Central/South America Time Zone
  March 6, 2021: Asia Time Zone
Pandemic 2.0, is rather timely, presenting the opportunity to control the outbreak. It is a sequel to the 2018 simulation, in which students had to decide which policies to implement in order to stop the pandemic. The simulation is built by the University of Virginia Center for Leadership Simulation and Gaming.
THE NOMINATION PROCESS
Deans/Program Directors/PAA Advisors/Faculty can nominate up to five students to compete. They have until January 21, 2021 to complete the process.
This year, there is small fee to compete — $20 USD per student — which will be assessed on the student nomination page.
Competition teams will be made up of five students, comprised of students from different schools.
Past Competitors, please encourage your programs to nominate students as soon as possible.
Recent Grads: we have opened the competition to MPA/MPP students who have graduated from their programs within the last five years!
Past competitors who are not nominated by faculty, have the opportunity to self-register for the competition beginning January 20. The enrollment fee will be $20.
Click here to nominate students
THANK YOU OUR #NBSIM2021 SPONSORS AND PARTNERS