NASPAA Standards Colloquia
The NASPAA Executive Council, together with the Standards Committee, convened a series of conversations to comprise the decennial review of the NASPAA Accreditation Standards. The Colloquia kicked off at the 2017 NASPAA Annual Conference in Washington, D.C., and will continue through October 2019.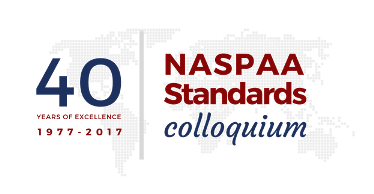 Through a series of colloquia, the NASPAA Standards Colloquium Steering Committee has gathered feedback from stakeholders at conferences across the globe:
Conference on Globalization, September 14, 2017 (Shanghai, China)
NASPAA Annual Conference, October 12 and 13, 2017 (Washington, DC, USA)
NASPAA Regional Quality Meeting, November 1, 2017 (Doha, Qatar)
NASPAA Simualiton Competition, February 24, 2018 (Cairo, Egypt)
COMPA Annual Conference, February 14, 2018 (Los Angeles, California, USA)
ASPA Annual Conference, March 12, 2018 (Denver, Colorado, USA)
INPAE Annual Conference, May 15, 2018 (Guadalajara, Mexico)
Social Equity Leadership Conference, June 13, 2018 (New York, New York, USA)
Southeastern Conference for Public Administration, September 22, 2018 (Birmingham, Alabama, USA)
International City Managers Association Annual Conference, September 24, 2018 (Baltimore, Maryland, USA)
NASPAA Annual Conference, October 12, 2018 (Atlanta, Georgia, USA)
ARNOVA Annual Conference, November 15, 2018 (Austin, Texas, USA)
In addition, from August to November 2018, a survey was open to solicit feedback from stakeholders unable to join one of the in-person listening sessions. 
The Steering Committee completed the feedback gathering portion of its work and offered recommendations to the NASPAA Executive Council in March 2019. The Council has now charged the NASPAA Standards Committee to synthesize the recommendations and draft proposed revisions to the NASPAA Standards. These revisions will be available for public comment later this spring. Stay tuned for more information!