2022-23 COPRA Chair, Roger E. Hartley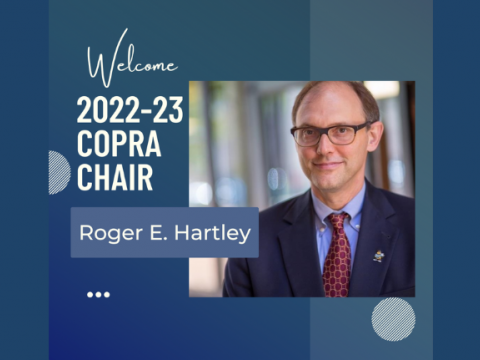 It is with great pleasure that we welcome  Dr. Roger E. Hartley as Chair of the Commission on Peer Review and Accreditation (COPRA) for the 2022-2023 year. Dr. Hartley returns to COPRA after having served on the Commission a full 3-year term and brings with him a wealth of knowledge and experience in supporting public service programs. Dr. Hartley is committed to helping programs reach their full potential. We are pleased that Dr. Hartley has accepted this appointment and look forward to his contributions to the public service education community in this new role.
Here is more on Dr. Hartley:
Dr. Roger E. Hartley has served as Dean of the College of Public Affairs at the University of Baltimore since 2015. He was born and raised in Cross Lanes, West Virginia and like many University of Baltimore students is a first-generation college graduate. He received a BS in Public Affairs focusing on Metropolitan Development in 1991 from Indiana University's O'Neil School of Public and Environmental Affairs. He went on to receive both his MA (in 1993) and Ph.D. in Political Science in 1999 from the University of Georgia's School of Public and International Affairs. Prior to becoming Dean, he served in several university leadership and teaching positions including Director of the Masters of Public Affairs program at Western Carolina University and Interim Associate Dean and Director of the University of Arizona School of Public Administration and Policy. As a tenured faculty member at University of Arizona and Western Carolina University, he taught courses in public law, public administration, American Government, criminal justice, and statistical methods. Dr. Hartley began his career teaching as an Adjunct Professor in the City University of New York system and as an Assistant Professor of Public Affairs at Roanoke College in Virginia. His research work is primarily focused on the administration and reform of the American judicial branch and policy impacting the judiciary.
Dr. Hartley is the founder of the University of Baltimore Community Development Fellows program and also helped build a new Public Service Academy in the College's Schaefer Center for Public Policy. He is a leader in public engagement work that connects students and faculty to opportunities that add capacity and impact to our communities. He is most passionate about the value of public service and helping to train the next generation of public and nonprofit leaders. Roger believes that public service is the highest of callings as a career choice or as an important part of a person's work...and that it changes lives. In his career, he has served on state regulatory boards, judicial selection and merit commissions, state and local civic and nonprofit boards, as well as a host of professional commissions and committees in service to the profession of public administration, public law and courts.
Dr. Hartley has enjoyed his service to NASPAA and has been involved since the 2000s. His service to NASPAA has been exciting including service on NASPAA's Executive Committee, as a member of COPRA, conference chair, and past membership on the marketing, small schools, and metropolitan school's sections. He is honored to serve this year as Chair of COPRA and will be finishing his final year of service as Co-Chair of NASPAA's Comprehensive Schools Section.
Roger has many hobbies including trail running, live music, records, gardening (he calls it ranching), hiking, and he enjoys comic books.