2021 COPRA Chair and New Commissioners Welcomed!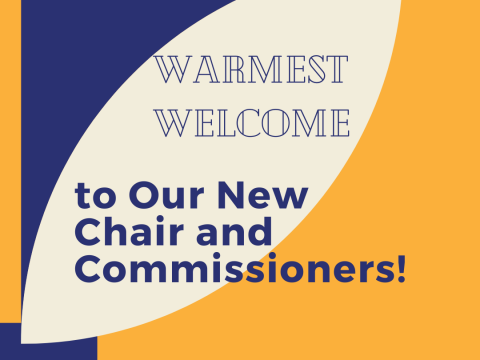 COPRA, under the leadership of the 2021-2022 Chair, Domonic Bearfield, is honored to welcome four new Commissioners serving terms from 2021-2024. Learn more about the Chair and the members recently joining the Commission below. 
Domonic Bearfield, Chair, 2021-2022
Dr. Domonic A. Bearfield is an associate professor in the School of Public Affairs and Administration at Rutgers University-Newark. A well-known scholar of race, gender, and public sector personnel, his work has appeared in many of the field's leading journals. An editor at Public Administration Review, he is also the former forum editor at Administrative Theory and Praxis. Currently, he serves as a commissioner for the Commission on Peer Review and Accreditation, the accrediting body for the Network of Public Policy, Affairs and Administration. An award-winning teacher and scholar, Dr. Bearfield has been recognized for his contributions to research and in the classroom. His co-authored article, "The Myth of Bureaucratic Neutrality: Institutionalized Inequity in Local Government Hiring," was named the 2020 Best Article by the Review of Public Personnel Administration. He has also received several teaching awards at both the departmental and college-wide level.
In his own words: 
It is an honor to serve as the COPRA Chair for the 2021-2022 accreditation cycle. It is an inspiring time in public affairs education. I look forward to working with my fellow commissioners to assist our member programs through the accreditation process.
Gloria Billingsley, Commissioner, 2021-2024
Dr. Gloria Billingsley is a native Mississippian. She earned the Master's in Business Administration and Ph.D. in Public Administration degrees from Jackson State University.  She is a professor and program director of the Master of Public Policy and Administration (MPPA) Program at Jackson State University with 20 years of teaching experience in the discipline. In service to NASPAA, she has served on the standard committee, and as a site visitor as well as chair of site visit teams and is currently serving as the National Co-Chair of the NASPAA 2021 Conference. She is active in the American Society of Public Administration and have served on the national council, finance committee, audit committee, publications committee as well as president of the Conference of Minority Public Administration where she has received several awards. Gloria is a member of the ASPA Pandemic Taskforce and managing editor of the Journal of Public Management and Social Policy. She has served in several non-academic positions including Vice President for Evaluation Services for Professional Associates, a minority-owned training and technical assistance company; Policy and Special Initiatives Officer for the Mississippi Department of Human Services where she coordinated efforts among three state agencies in the implementation of the State Children's Health Insurance Program.  Additionally, Gloria has served as a grant reviewer for the Substance Abuse Mental Health Services Administration in the U.S. Department of Health and Human Services in the areas of community partnership and coalition development, substance abuse prevention and treatment, HIV/AIDS in the African-American population, and culturally appropriate programs for persons of color.  Dr. Billingsley has published in several journals such as Public Management and Governance, Global Encyclopedia of Public Administration; Public Administration Quarterly, National Political Science Review; Race Gender and Class; Public Administration & Management and Ethnicity and Disease relative to voting rights, minority participation in health research, nonprofit management issues of spirituality and health.
Angela M. Eikenberry, Commissioner, 2021-2024
Angela M. Eikenberry is D.B. and Paula Varner Professor in the School of Public Administration at the University of Nebraska at Omaha (UNO). Her research focuses on the social, economic, and political roles of philanthropy, voluntary associations, and nonprofit organizations in democratic governance. She is recipient of the UNO Award for Distinguished Research or Creative Activity and a Fellow in the National Academy of Public Administration. She recently co-edited a textbook on nonprofit management, Reframing Nonprofit Management: Democracy, Inclusion, and Social Change (Melvin & Leigh, 2018) and is past-President of the Association for Research on Nonprofit Organizations and Voluntary Action (ARNOVA).
https://www.unomaha.edu/college-of-public-affairs-and-community-service…
Tia Sherée Gaynor, Commissioner, 2021-2024
Tia Sherèe Gaynor, Ph.D. is an associate professor in the Department of Political Science, Founding Director of the Center for Truth, Racial Healing & Transformation and Taft Professor of Social Justice at the University of Cincinnati. She holds a Ph.D. and MPA from the School of Public Affairs and Administration, at Rutgers University – Newark.  She received her BA in Psychology from Rutgers University – New Brunswick.  Additionally, Dr. Gaynor holds a Diversity Management Certification from the University of Houston's International Institute for Diversity.
 Her research interests explore the intersection of social justice, local government, and identity.  More specifically, focusing on the varying ways social constructions and decision-making can lead to inequitable outcomes for people of color, those who identify as LGBTQIA, and people at the intersections of these and other identities. Most recently, her work has centered on policing, race, and gender identity.
 Dr. Gaynor recognizes that the scholarship and practice of public administrators can either serve as promoters of equity and justice or facilitators of injustice for underrepresented and marginalized populations. Her work is committed to not only recognizing this juxtaposition but offering strategies to foster healing, justice, and equity in the field.
Sheila Toppin, Commissioner, 2021-2024
Sheila Gatewood Toppin is an associate professor in the Department of Public Administration at Clark Atlanta University where she serves as the MPA Internship Coordinator and committee member for the School of Arts and Sciences' Curriculum Committee. She holds a doctoral degree from Valdosta State University, a master's degree from Clark Atlanta University, and a bachelor's degree from Illinois State University. Her academic preparation is complimented by a 20-year public service career in federal court and state community correctional agencies. Dr. Toppin's observations of systemic disparate treatment led to her applied research focus on societal problems and institutional responsibilities in minority serving communities. She serves her profession as a board member with the Southeastern Conference for Public Administration, a member of the Comptroller General of the United States & Government Accountability Office's Educator's Advisory Panel, an alumna of the American Association of Blacks in Higher Education's Leadership & Mentoring Institute, and has served in leadership positions with the American Society for Public Administration – Georgia Chapter. During her tenure as ASPA-Georgia Chapter President, the chapter launched its inaugural three-year strategic plan aligning with ASPA's mission and objectives. Dr. Toppin believes the best practices in public service begin with the best public service education. It is her life's mission to be a conduit for all seeking excellence in public service so that all communities are better served.