2020-2021 Roster of NASPAA Accredited Programs Released!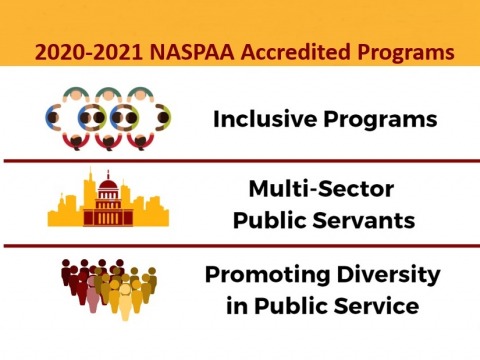 The Commission on Peer Review and Accreditation (COPRA) is pleased to release the 2020-2021 Roster of Accredited Programs. The Roster, published annually, includes the actions made with regard to the 2019-2020 cohort, including 2 programs achieving accreditation for the first time.
Please join COPRA in congratulating all programs on their hard work and commitment to public service education!
Want to see who is NASPAA Accredited? Click to read the 2020-2021 Roster of Accredited Programs.
Just want to see the actions COPRA took regarding the 2019-2020 cohort? Click to read the 2020 COPRA Accreditation Action Statement.
NASPAA accreditation, while voluntary, signifies that a master's program has undertaken a rigorous process of peer review conducted by COPRA.  All accredited programs have successfully met the NASPAA Accreditation Standards for professional master's degree programs public policy, affairs, or administration. The accreditation process is designed to foster continuous assessment and improvement, even after accreditation has been achieved. At this time, 206 programs are accredited by NASPAA.
For more, click here!