2019 NASPAA Annual Conference
2019 NASPAA Annual Conference: Remembering the Last 50 Years and Looking Forward to the Next 50 Years 
Over 700 leaders in public affairs education from over 200 different universities from 25 countries attended the 2019 Annual Conference in Los Angeles, CA, October 16 - 19th, making it the largest conference in NASPAA history. NASPAA celebrated its 50th anniversary, and panels and speakers discussed reconstructing governance for the next 50 years. Tracks centered on innovation in public affairs teaching and learning, the path from diversity to inclusion to power, future challenges involved in training students to collect, analyze, and communicate data, and the relation between NASPAA's public service values and the Global 2030 Agenda for Sustainable Development Goals. In total there were 95 panel sessions on Thursday and Friday, 6 Wednesday workshops, and 22 committee/section meetings, totaling over 400 unique presenters.
Conference Highlights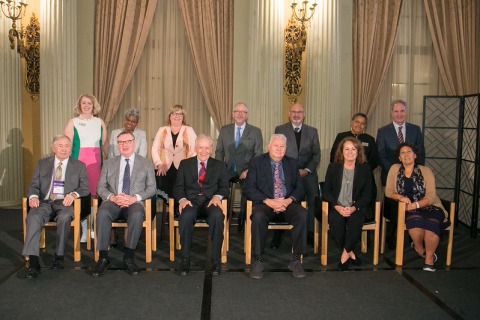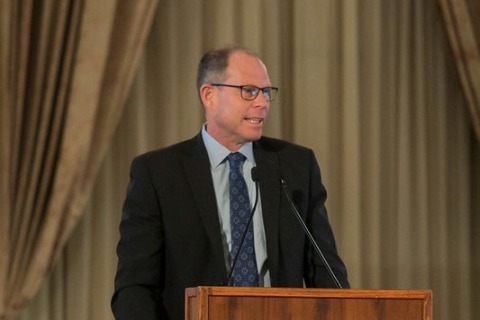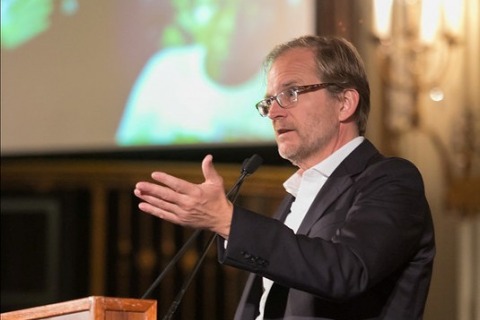 Congrats to 2019 NASPAA Award Winners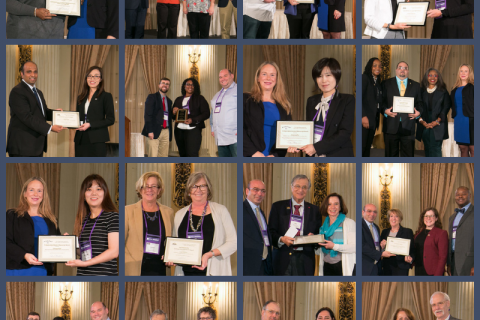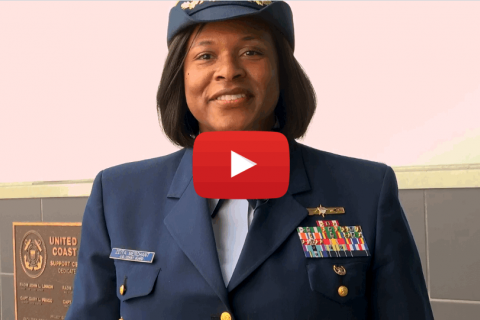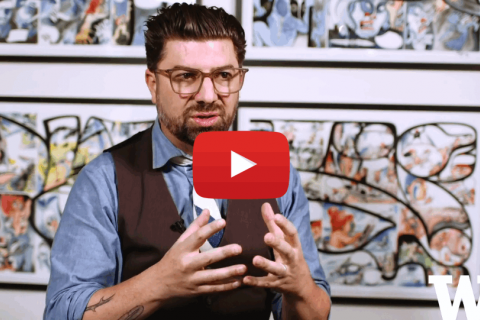 Social Media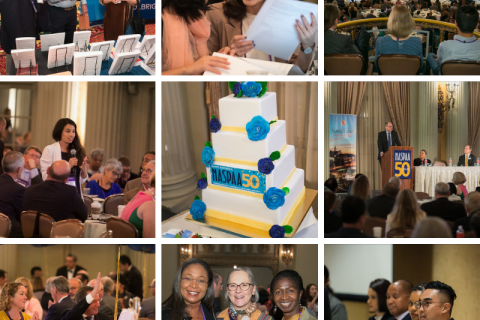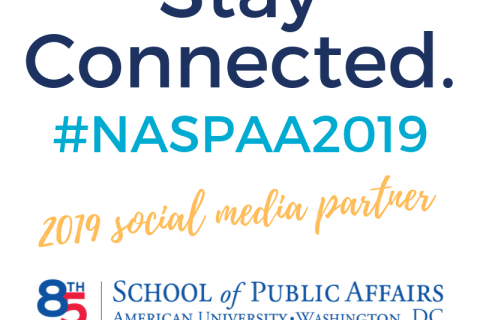 Panels of Note
The University of Montana Master of Public Administration Program was the winner of the Third Annual Voinovich Public Innovation Challenge, sponsored by Ohio University's Voinovich School of Leadership and Public Affairs, in conjunction with the Network of Schools of Public Policy, Affairs, and Administration (NASPAA) during their 2019 annual conference in Los Angeles, California.
Dr. Sara Rinfret, chair of the Department of Public Administration & Policy for University of Montana, presented the winning innovation project, "Exploring How Robots Provide an Accessible MPA Education." The project was awarded $3,500 to further its development. Read more
Chair: Christopher Koliba, Panelists: Palmira Rios, Jack Meek, David Birdsell, Laurel McFarland, and Robert Orr
In 2018, the Conference theme was "Good Governance in Disrupted State(s)". The former and current leadership of NASPAA came together on a panel to reflect on this theme a year later. Disruption is now fundamental to our global experience in this century. This reality is at odds with the field of public administration, which is in some ways about the need to control and run things for the public good, no matter what's going on politically or socially that disrupts the status quo. So we as a field have to respond to disruption, and panelists expressed the profound realization that this is good for us. Otherwise, the field, already resistant to change, is too staid. The panel discussed that disruptions have prompted "difficult conversations" at NASPAA-about whether liberal democracy is central to effective governance; how to be fully inclusive of all schools in NASPAA governance and standards-setting; and whether multi-sectoral graduate education is still "public service." Panelists agreed that as we shift to a global organization, these debates have been essential within NASPAA. Much of NASPAA's organization and bylaws reflect liberal democratic origins, but we have proven that NASPAA's processes and standards can be looked at outside whence they came and can be tested in different systems. The concept of governance does travel very well, and people around the world relate to that challenge. There is nothing uniquely American about the need to prepare students for more effective and accountable public service-and a critical question is what NASPAA can contribute to all this. It has carrots (programs, conferences, web resources, journal) and sticks (assessing conformance to accreditation standards) and other tools, such as forming strategic partnerships with other organizations, to help lead people and programs within our field. NASPAA should lead programs around the world through the difficult task of preparing students for the NEXT generation of public service jobs. The panel concluded that it will take all of our schools, not just the biggest or best-resourced, to populate the next generation of NASPAA with the necessary leadership to help our field deal better collectively with the disruptions that lie ahead.
This panel led by Thomas Craemer, Kirsten Mullen, Trevon Logan, and Brandi Blessett that covered an important topic that is often excluded from political and public service dialogues. The panel featured reparations scholars discussing amounts, modalities, and the structure of possible reparations policy proposals. The panel presented both the moral and economic argument for reparations. It summarized research and studies that have been conducted for decades, to assert why reparations for African Americans should be an uncontested issue. Slavery and the treatment of African Americans post-emancipation have left a devastating impact on many African Americans in the modern era, who still continue to face injustices and discrimination due to systematic racism. A formal apology to African Americans has yet to be delivered by the American government. While populations like Japanese-American internees and holocaust survivors were granted reparations by their respective governments, the issue surrounding repayment to African Americans remains an unusual source of contention. The panel shed light on the brutal realities of slavery in the United States, often excluded from classroom lessons and textbooks. Panel attendees came out of this session with a whole new outlook on reparations for the African American populace. The topic of reparations might be a sensitive one; however, people must not forget the injustices and barbaric treatment faced by African Americans for hundreds of years.
Congratulations to the participants of the 2019 Class of NASPAA NEXT
NASPAA is thrilled to announce that this year's NEXT Leadership Workshop hosted its largest group ever - over 30 faculty from across the globe participated to learn how to be a NEXT Generation Scholar.  The theme for this year's workshop was "How to Prepare for the NEXT 50 Years of Public Affairs Education."  The four-hour workshop, provided emerging leaders in their departments or programs practical tools that enabled them to become more engaged and dynamic members of their campuses and communities.  Participants shared professional experiences in break-out sessions dedicated to mapping their professional career through research, teaching, and service; how to mentor students and how to find and engage a mentor for themselves as they navigate evolving expectations in academia; and strategies to become involved in NASPAA through valuable professional service.  NASPAA thanks this year's facilitators: Nicole Elias of John Jay College, Amanda Olejarski of West Chester University, and Jeffery Osgood of West Chester University.
Workshop Leads: Noah Myung (UVA Batten CLSG), Andy Ortiz (UVA Batten CLSG), Steven Parrott (UVA Batten CLSG), Adam Roux (UVA Batten CLSG), Dana Harsell (University of North Dakota), Supriya Golas (NASPAA) 
NASPAA conducted its first ever Simulation Workshop during this year's annual conference. The workshop was the first official activity held by the Simulation Network, part of NASPAA's brand new initiative, the Institute for Innovative Teaching and Learning for Public Service.
The purpose of the workshop was to take a "deep dive" into the simulations developed by University of Virginia's Batten School of Public Policy that have been programmed for the annual NASPAA-Batten Student Simulation Competition. The workshop shed light on both the Global Pandemic and Migration simulations. The 80 participants in attendance were instructed on how to navigate through the simulation interfaces, and create user accounts. They were guided through the content and learned about the research process and design of the simulations. Dana Harsell, Director of the University of North Dakota's MPA program, delved into teaching and learning processes, and guided professors on how to utilize simulations in their classrooms. Professor Harsell based his classroom approach on NASPAA's core competencies.
The workshop played a crucial role in helping NASPAA understand the overall demand for simulations in the public affairs classroom. NASPAA's mission is to increase the number of simulations in circulation, improve upon the quality of existing simulations, make simulations more accessible and affordable, and train professors how to teach with these fantastic learning tools.
The Case Study Workshop held Wednesday of the NASPAA Conference and led by Andy Graham of Queens University, Kathy Brock of Queens University, and Blue Wooldridge of Virginia Commonwealth University provided participants with information on the characteristics of effective case studies, how to create or find them and how to use them to achieve learning objectives.  Case studies, in their various forms, enliven and enrich the learning experience. They bridge the gap between theory and experience. They move the teaching dynamic towards a partnership of learner and instructor. They let students apply ideas to real situations, understand better the complexity of most public sector environments and see the interplay between ideas and people. This workshop showed how programs can more effectively use them in the classroom. Powerpoints from the workshop are currently available at: https://www.naspaa.org/innovative-teaching/training with videos soon to follow!
Thank you to the 2019 NASPAA Annual Conference Committee Members for their service:
Mohamad G. Alkadry (CHAIR), University of Connecticut
Charles E. Menifield, Rutgers University, Newark
Christopher Koliba, The University of Vermont
David Birdsell, Baruch College, CUNY
Ethel H. Williams, University of Nebraska at Omaha
Jack H Knott, University of Southern California
John "Jack" D. Donahue, Harvard University
Kaifeng Yang, Renmin University of China
Kathryn Newcomer, The George Washington University
Laura Bloomberg, University of Minnesota
Michelle Piskulich, Oakland University
Nadia Rubaii, Binghamton University
Pablo Sanabria, Universidad de los Andes
Palmira N. Rios-Gonzalez, University of Puerto Rico - Rio Piedras Campus
Susan Gooden, Virginia Commonwealth University
NASPAA thanks the local schools that help host and welcome #NASPAA2019 to Los Angeles, CA
University of Southern California, Sol Price School of Public Policy
California State University, Los Angeles, Department of Political Science
California State University, San Bernardino (CSUSB), Department of Public Administration 
University of La Verne, College of Business & Public Management
Pepperdine University, School of Public Policy
The Frederick S. Pardee RAND Graduate School (RAND) 
University of California Los Angles (UCLA), Luskin School of Public Affairs
California State University, Fullerton, Division of Politics, Administration, and Justice
California State University, Long Beach, Graduate Center for Public Policy and Administration