NASPAA y COPRA se unen a INPAE en Chile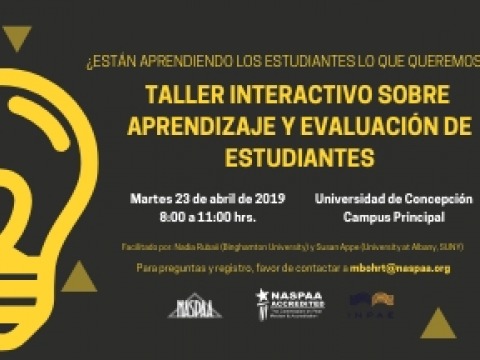 Information in English below. 
La Comisión de Revisión de Pares y Acreditación (COPRA) de la Red de Escuelas de Administración, Políticas y Asuntos Públicos (NASPAA), en colaboración con la Red Interamericana de Educación en Administración Pública (INPAE), se complace en presentar un Taller Interactivo sobre Aprendizaje y Evaluación de Estudiantes para programas graduados en el área de Administración y Políticas Públicas. El taller se llevará  a cabo el 23 de abril de 2019 en la Universidad de Concepción, Campus Principal, de 8:00-11:00 hrs., en el marco de la XV Conferencia Anual Red INPAE.
El programa tiene como objetivo proporcionar a los asistentes ideas sobre:
Cómo utilizar la misión programática para diseñar modelos de evaluación estudiantil en alineación con los objetivos estratégicos del programa

El uso de estrategias de enseñanza innovadoras, como las simulaciones, estudios de casos, y los portafolios electrónicos, para evidenciar las competencias adquiridas por los estudiantes

La formulación de rúbricas y otras herramientas de evaluación, incluyendo ejemplos de programas graduados en administración pública en el Caribe y América Latina
El currículo va dirigido a todo programa académico interesado en la mejora programática, particularmente en la evaluación de estudiantes y los resultados previstos.
El taller busca ser interactivo y dar la oportunidad a los asistentes de participar en discusiones de alto nivel que les proporcionen una serie de herramientas e ideas prácticas que puedan implementar en sus programas académicos.
Esta colaboración refuerza la alianza establecida entre NASPAA e INPAE, cuyo fin es el de promover la excelencia en la educación en administración y políticas públicas, mejorar la capacidad de los profesionales en el sector público por medio de la comunicación y fomentar colaboración entre las dos organizaciones a partir del conocimiento y de las experiencias del continente americano. Asimismo, este evento apoya tanto la labor de NASPAA de establecer un estándar global en el campo de la educación internacional en servicio público, como el compromiso de INPAE de avanzar la educación en administración pública y asuntos públicos en América Latina y el Caribe.
¡Esperamos verlos en Concepción!
Favor de contactar a Martha Bohrt para registrarse o con cualquier duda sobre el evento por medio del correo electrónico mbohrt@naspaa.org.
********************************************************************
The Commission on Peer Review and Accreditation (COPRA) of the Network of Schools of Public Policy, Affairs, and Administration (NASPAA), in collaboration with the Inter-American Network of Public Administration Education (INPAE), are pleased to offer an Interactive Workshop on Student Learning and Evaluation at the XV INPAE Annual Conference on Tuesday, April 23 in Concepcion, Chile.
This is the second year in which NASPAA's COPRA partners with INPAE to deliver content to increase the capacity of educators in the field of public service graduate education. This workshop will introduce participants to how well-designed mission-based student learning assessment can contribute to strategic program management and provide opportunities for participants to experience how innovative pedagogies (including case studies, simulations, and e-Portfolios) can demonstrate student learning on mission-based competencies. The workshop, to be delivered in Spanish, will use examples from NASPAA-accredited programs throughout Latin America and the Caribbean.
NASPAA thanks INPAE for this continued partnership which the objective to promote excellence in public service graduate education across the Americas.
For more information, please contact mbohrt@naspaa.org.