NAASPA Site Visitor Training Orientation at the ASPA Conference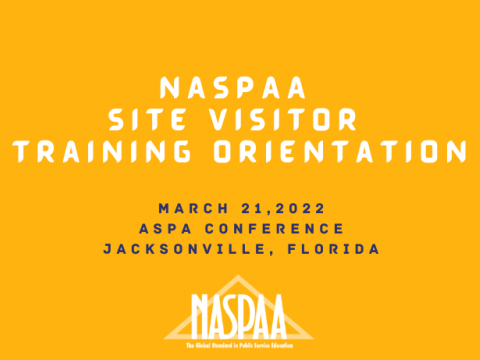 We are pleased to announce a NASPAA Site Visitor Training Orientation at the 2022 American Society for Public Administration (ASPA) Conference on Monday, March 21, from 7:30 a.m. - 8:30 a.m. in Jacksonville, Florida.
NASPAA thanks our long-time volunteer and site visitor Sheldon Edner from George Mason University for facilitating this workshop.
We are grateful to ASPA for their generosity in allowing us access to such a talented pool of public servants. Attendees should be registered for the ASPA Conference. 
This Site Visitor Training Orientation workshop is for you if:
your training has expired (training is valid for 5 years unless you have served on a site visit team) 

you are interested in becoming a NASPAA site visitor

you would like to learn more about NASPAA accreditation
Please also feel free to share this information if you know of someone else who is interested in becoming a NASPAA site visitor or if you know someone in the region who you think would be a good site visitor. 
Both academics and practitioners are welcome. We have a large number of accredited programs in the Southeastern United States, so we need as many peers and experts as possible. Attendees at the orientation will be eligible to participate in an abbreviated "fast track" virtual site visit training if they sign-up at the ASPA orientation.