Intern at NASPAA! Higher Education and Accreditation in East Asia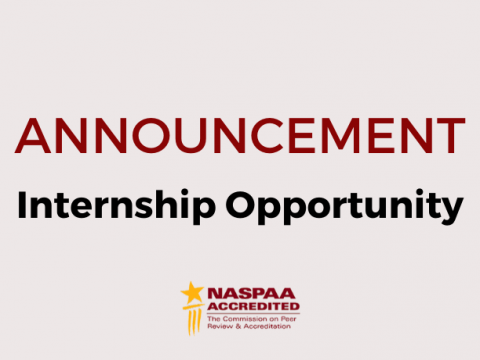 This is an exciting internship opportunity, ideal for a graduate student interested in global higher education, accreditation, or program evaluation. 
NASPAA is seeking a master's student in fields such as public policy, public administration, or similar for an internship position for approximately 16 weeks during Spring 2020, starting in January.  Students in master's or doctoral programs in related fields are also encouraged to apply. 
Primary responsibilities are expected to include:
Assist in the planning of NASPAA's March 2020 Accreditation and Pedagogy Event in Ho Chi Minh City, Vietnam. Facilitate invitations, track participants, and help plan logistics for a global 2-day accreditation workshop and pedagogy conference.

Provide research and assistance regarding content development for accreditation workshops.

Help select and prepare panelists interested in sustainable development goals and innovative pedagogy. Share information about the event through the website or other means. Follow up the event by cataloguing lessons learned from participants.
Applicants should have:
Completed the equivalent of at least one semester of a master's or doctoral program in public policy, public administration, or a related field.

Demonstrated understanding of or experience with higher education in China, Vietnam, or other East Asia and Southeast Asia countries. Vietnamese or Mandarin language proficiency desired.

Strong administrative capacity to track multiple aspects of event planning. Experience with global meetings a plus.

High level of cultural competency in order to interact positively with academics from around the globe.

Excellent communication and writing skills. Facility with web communications and social media.

Capacity to research and propose solutions.

An interest in public service education, higher education, nonprofit management, and/or program evaluation, and the values orientation of public service education.

A desire to work in a non-profit and academic-oriented setting and confidence in dealing with academics and government professionals.

Academic coursework in program evaluation is a plus.
While the deadline is rolling, apply as soon as possible! Position open until filled. Full announcement with application directions available here.