Participants in the 2018 competition—the largest-ever student simulation competition in higher education–were confronted the spread of an infectious disease. Over the course of the competition, participants—primarily graduate students in public policy and related fields—went through four hour-long rounds of the simulation, wrote two policy memos, then presented their policy recommendations to judges at the site.
This competition beat all previous participation records: over 500 students from 27 countries participated. These students came from 159 different universities and formed 130 teams at 15 competition sites worldwide.
The simulation itself was an interactive, stochastic, real-time game where participants are challenged to make difficult public policy decisions. Participants take on roles as government ministers (Prime Minister, Minister of Communication, etc.) and must work together as a team, interacting with other governments in a fast-paced environment. Participants must develop strategies to preserve global health, choose policies to contain the pandemic, and handle the political and economic ramifications of their decisions.
If you were not able to participate in our May 20 pandemic simulation demo, do not worry! Please access the recorded version here to learn how you can teach with the simulation this upcoming semester. 
Additionally, please click here to learn how to create a CLSG Instructor account and sign up for our central system. 
CONGRATULATIONS TO

SAN JOSÉ STATE UNIVERSITY COLLEGE OF SOCIAL SCIENCES

FOR PRODUCING THE 2018 NASPAA-BATTEN SIMULATION COMPETITION CHAMPIONS!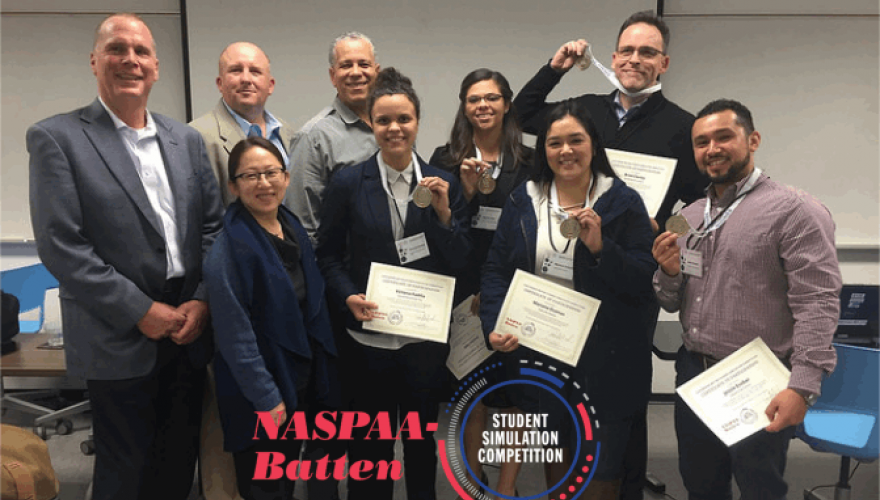 On April 16, 2018, NASPAA and the University of Virginia Frank Batten School of Leadership and Public Policy announced the winners. A team of five students competing at the San José State University College of Social Sciences took First Place, each receiving $1,500 USD from the Batten School's Center for Leadership Simulation and Gaming (CLSG). The winning team included:
Brian Cauley, San Francisco State University

Mariana Duenas, Golden Gate University

Jessie Escobar, University of San Francisco

Jessika Hall, Naval Postgraduate School

Victoria Padilla, California State University, Chico
The San José State University College of Social Sciences host site was led by Professors Frannie Edwards and Matthew Record.
"This is the only global simulation in public policy education I know of that brings grad students together from all different countries to address a common policy problem and learn from each other," said NASPAA Executive Director Laurel McFarland. "Our hope is they will graduate and go out into the real world in a year or two with a heightened understanding of global health insecurity and a desire to contribute to its eradication wherever they might end up working."