Self-Study Report and Eligibility Applications Due!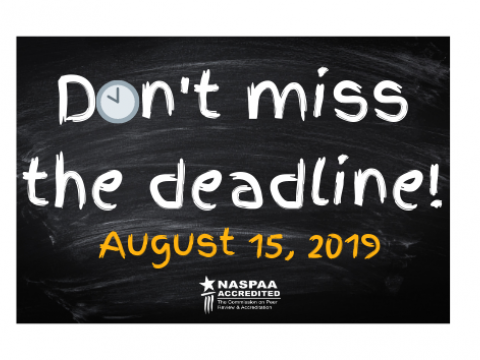 Self-Study Reports for programs seeking (re)accreditation in the 2019-20 cohort are due August 15, 2019! Remember to submit and lock your report, and all appendices, in the NASPAA Data Center.
Accompanying the Self-Study Report, programs must also remit the accreditation fee and submit the Accreditation Application, signed by both the NASPAA principal representative and university provost. Please email hamilton@naspaa.org if you have questions about submitting this August.
Member programs interested in beginning the accreditation process can submit an eligibility application at the August 15 deadline! The Eligibility application is an opportunity for first-time applicant programs to engage with COPRA and receive developmental support prior to the self-study process. The Eligibility process is intended to provide direction, directly from COPRA to programs interested in accreditation, on ways they may improve their prospects of receiving accreditation.