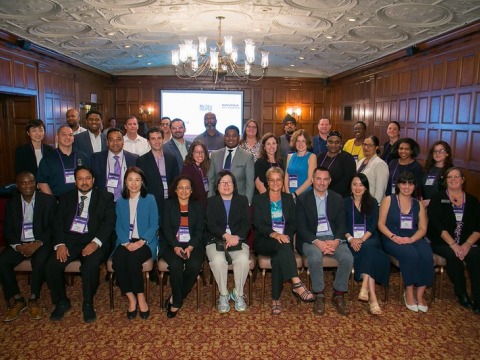 NASPAA is excited to announce the fifth class of NASPAA NEXT is now accepting nominations. NASPAA NEXT will be a part of the NASPAA's 2020 Virtual Annual Conference on Wednesday, October 14. The three-hour workshop (1pm to 4pm Eastern Daylight Time), will provide emerging leaders in their departments or programs with practical tools that will enable them to become more engaged and dynamic members of their campuses and communities. Participation in NASPAA NEXT is by invitation only, and invitations are based on recommendations from deans and other senior faculty, professional reputation and scholarly research, as well as participation in NASPAA activities.
The theme for this year's workshop is Building the Civic Square: Centering Racial Equity. We are excited that this year's facilitating sponsor is the L. Douglas Wilder School of Government and Public Affairs.  Dean Susan Gooden will welcome participants and professors Nakeina Douglas-Glenn, Elsie Harper-Anderson, Shajuana Isom-Payne, Robyn McDougle, Sarah Raskin and Mary Snowden (from the Wagner School at NYU) will facilitate.
Borrowing from this year's conference theme Building The New Civic Square, this year's NASPAA NEXT will offer emerging faculty members an intentional and thoughtful workshop focused on racial equity. This action-focused workshop equips participants with the skills to center racial equity in their work with policymakers, communities, students, and in their own research. The workshop is not a "conversation about race" or a data examination of racial inequities. Rather, it is a skills-focused session on tools needed to achieve racial equity in public affairs.. The facilitators will emphasize the following:
Translating Equity Research for Policymakers
Concurrent Breakout Sessions on: 

Centering Racial Equity in Public Affairs Research.
Ensuring Equity and Access in Student Engagement, Experiential Learning, and Career Development
Principles and Practices that support successful engagement with Minority Communities
NASPAA is currently accepting nominations from Deans, Program Directors, and Senior Faculty for faculty who have recently received tenure, will soon receive tenure, or at an equivalent stage of their academic and professional development. We especially encourage participation from minority serving institutions – HBCUs and HSIs, small institutions, as well as those who have not attended a NASPAA conference in the past few years. Space is limited, so please submit your nomination early.  While we will review multiple nominations from a department/program, only one person from each program will be selected to participate. Nominations should be sent via email to David Marshall, Director of Membership Development, at marshall@naspaa.org.