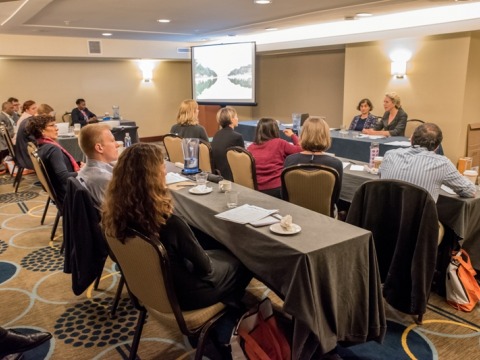 NASPAA is excited to announce the fourth class of NASPAA NEXT at the 2019 NASPAA Annual Conference in Los Angeles, CA on Wednesday, October 16. The four-hour workshop (1pm to 5pm), will provide emerging leaders in their departments or programs with practical tools that will enable them to become more engaged and dynamic members of their campuses and communities. Participation in NASPAA NEXT is by invitation only, and invitations are based on recommendations from deans and other senior faculty, professional reputation and scholarly research, as well as participation in NASPAA activities.
The theme for this year's workshop is How to Prepare for the NEXT 50 Years of Public Affairs Education. We are very pleased to have Professors Amanda Olejarski and Jeffery Osgood from West Chester University and Nicole Elias from John Jay College of Criminal Justice facilitating.
Borrowing from this year's conference theme Reconstructing Governance for the Next 50 Years this year's NASPAA NEXT will offer emerging faculty members relevant strategies for becoming stand out professors equipping our students to assist in the construction of sustainable and inclusive democracies. The facilitators will emphasize the following:
The importance of becoming engaged in your campus communities and promoting NASPAA values in and out the classroom.
The importance of mentoring, being both a mentor and mentee. 
How becoming involved in NASPAA committees and sections can help you achieve your professional goals, build a professional network, and have an impact on your campus.
How the use of technology and social media can assist you in all of the above
Nominations has been closed.  For more information, please contact David Marshall, Director of Membership Development, at marshall@naspaa.org.