NASPAA Emergency Management Education Conference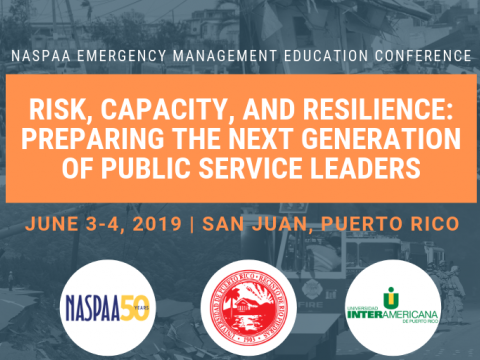 NASPAA, in collaboration with the Office of the Mayor of San Juan, the University of Puerto Rico, and the Inter American University of Puerto Rico, are hosting a conference on emergency management on June 3-4, 2019 at the Carnegie Library in San Juan, Puerto Rico.
Titled Risk, Capacity, and Resilience: Preparing the Next Generation of Public Service Leaders, this conference will convene elected officials, practitioners, and academics to discuss the current state and future of emergency management public service education.
Emergency management experts will present their work in the following areas:
Vulnerable populations and resilience: equality and inclusion in emergency management
Growing dependence of society on technology and what happens when technology fails
Cross-sectoral and intergovernmental cooperation, including with the military
The need for interdisciplinarity in the field of emergency management, including the fields of public administration, public health, economics, engineering, and others
The conference program is available here. 
For questions, contanct sanjuanconference@naspaa.org.
***There is no fee to attend the conference. Unless other specific arrangements are made, participants are responsible for covering their own transportation and lodging expenses.