4th Annual Voinovich Public Innovation Challenge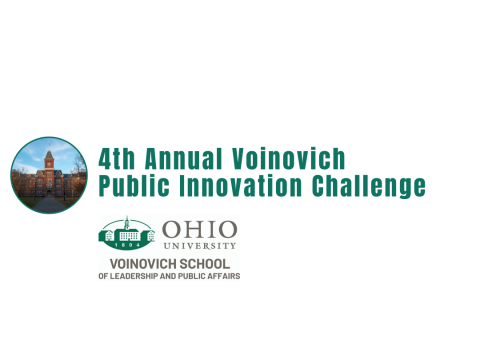 COMPETITORS SOUGHT FOR THE 4TH ANNUAL VOINOVICH PUBLIC INNOVATION CHALLENGE
Submission deadline: September 1, 2020
Your NASPAA Institution is invited to join a 'pitch competition' in honor of the late Sen. George V. Voinovich. He believed creativity and innovation were critical to effective public service, declaring "the government's highest calling is to empower people and galvanize their energy and resources to help solve our problems, meet our challenges, and seize our opportunities."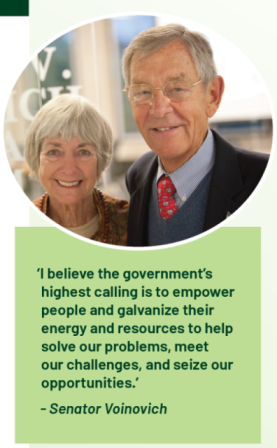 The Voinovich Public Innovation Challenge is an annual event that highlights exciting new strategies for enhancing student education, addressing unmet needs, advancing knowledge, and/or improving programmatic efficiency or effectiveness. This year, we're focusing on COVID-19 and the related economic crisis. If your innovative approach to teaching, community engagement, research, or administration is selected as one of the three finalists, you will receive:
An opportunity to present your idea at the 2020 NASPAA Virtual Conference
A chance to win a $10,000 award to launch or further develop your innovation
PARTICIPATION  
To apply, interested faculty or professional staff must:
Have developed an innovative approach to enhance students' education, address an unmet need, advance understanding in the field, and/or improve programmatic efficiency or effectiveness.
Create a two-page written overview, telling us what you are doing and how it works. Submission deadline: September 1, 2020
Be prepared to give a short presentation of your idea and answer questions posed by a panel of expert judges at the 2020 NASPAA Virtual Conference October 14-16, 2020 if you are selected for the finalist pool.
HISTORY
NASPAA's Executive Director, Dr. Laurel McFarland, and Ohio University's Voinovich School of Leadership and Public Affairs Dean, Dr. Mark Weinberg, conceived of this competition as a commemoration of their mutual friend and colleague, Senator George V. Voinovich (July 15, 1936- June 12, 2016), whose nearly half-century of public service was a living example of servant leadership. He encouraged others to design and deliver practical solutions to challenging public problems, to expand higher education publicprivate partnerships, and, most importantly, to educate, mentor and develop people engaged in public service from every sector and walk of life.
Questions and applications can be submitted to: Kate Leeman, Voinovich School Director of Strategic Initiatives, at leemank@ohio.edu.