2021 NASPAA NEXT Workshop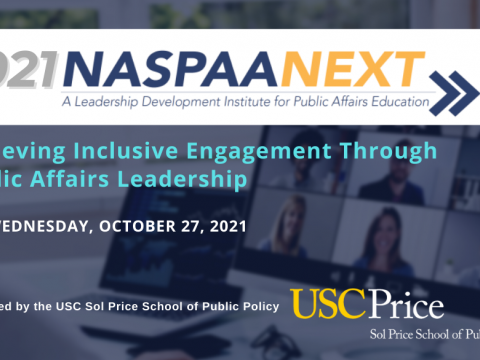 NASPAA is excited to announce the sixth class of NASPAA NEXT. NASPAA NEXT will be a part of the NASPAA's 2021 Virtual Annual Conference on Wednesday, October 27. The three-hour workshop (1 pm to 4 pm, EST), will once again be virtual via Zoom. The title for this year's workshop is Achieving Inclusive Engagement Through Public Affairs Leadership. Thanks to our facilitating sponsor, the Sol Price School of Public Policy at the University of Southern California.
This year's NASPAA NEXT will offer attendees an opportunity to develop skills and concrete strategies for inclusionary engagement practices within their public affairs programs. The design of the workshop is itself experiential and engaged, focusing on a roundtable panel discussion and two charrette-style break-outs that ask participants to come up with specific solutions in response to identified case challenges, active and thoughtful experience focused on experiential engagement through leadership and instructional design. This event equips participants emergent leaders with the skills to build more participatory public affairs programs that consult with key stakeholders, engage students inclusively, and embody effective practices for inclusionary engagement.
Participation in NASPAA NEXT is by invitation only, and invitations are based on recommendations from deans and other senior faculty, professional reputation and scholarly research, as well as participation in NASPAA activities.