2021 NASPAA Career Professionals Conference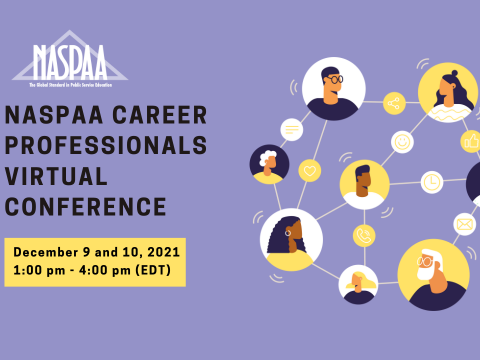 2021 NASPAA Career Professionals Conference Recap
NASPAA would like to give a big thanks to everyone who attended and contributed to this year's NASPAA Virtual Career Professionals Conference, December 9-10th on Zoom. We also want to give a special shout out to our keynote speaker, Monique Cooper, who discussed equity mindedness and the DEI Equity scorecard and reflected on how these tools and theories can be applied to the work done at both an institutional and individual level. Attendees discussed the following topics: Managing effective internal and external partnerships; Leveraging technology for remote advising and learning; Supporting employers through changes in hiring and recruiting processes; Meeting diverse student needs in the current climate…and more! View the Agenda
NASPAA also thanks the 2021 Career Conference Planning Committee!
Stephanie Boomhower, UC San Diego, School of Global Policy and Strategy
Elaine McBeth, College of William and Mary, William & Mary Public Policy
Shajuana Payne, Virginia Commonwealth University, L. Douglas Wilder School of Government and Public Affairs
Kristine Schuster, Indiana University (IUPUI), Paul H. O'Neill School of Public and Environmental Affairs
Elizabeth Overman, University of Central Oklahoma, College of Liberal Arts
Joan Fishburn, University of Colorado Denver, School of Public Affairs
Denise Fowler, The George Washington University, Trachtenberg School of Public Policy and Public Administration
Meagan Van Gelder, University of Nebraska at Omaha, School of Public Administration
Yalitza Negron-Rivera, University at Albany SUNY, Rockefeller College of Public Affairs and Policy
Alexandra Cobus, New York University, Robert F. Wagner Graduate School of Public Service
---------------
NASPAA's annual Career Professionals Conference is designed to provide information about career paths for students in public administration and public policy programs, allow for networking among staff and faculty leading career development efforts at NASPAA schools, and learn about programs and best practices offered by NASPAA colleagues around the country.  
Career Development professionals are the primary audience for this conference, but we encourage faculty or staff from NASPAA schools who are interested in delving more deeply into career development, as well as NASPAA member employers who would like to deepen connections with career professionals to attend.