2021 NASPAA Career Professionals Conference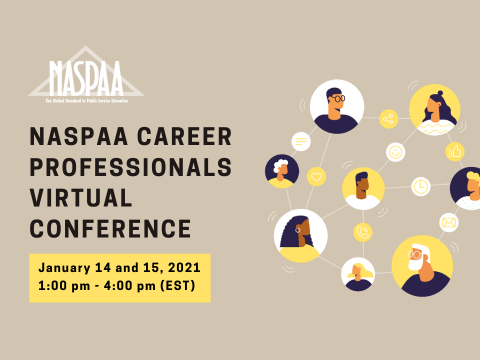 2021 NASPAA Career Professionals Virtual Conference
January 14 and 15, 2021 
1:00 pm - 4:00 pm Eastern Standard Time (EST)
The 2021 NASPAA Career Professional Conference will be held VIRTUALLY Thursday, January 14th and Friday, January15th, 2021. Although we cannot meet in person this year, we are excited to create a space for NASPAA's career professionals to connect and learn online for two half day sessions.
NASPAA's annual Career Professionals Conference is designed to provide information about career paths for students in public administration and public policy programs, allow for networking among staff and faculty leading career development efforts at NASPAA schools, and learn about programs and best practices offered by NASPAA colleagues around the country.  
Career Development professionals are the primary audience for this conference, but we encourage faculty or staff from NASPAA schools who are interested in delving more deeply into career development, as well as NASPAA member employers who would like to deepen connections with career professionals to attend.
Planning Committee:
Stephanie Boomhower, UC San Diego, School of Global Policy and Strategy
Rachel DuBois, New York University, Robert F. Wagner Graduate School of Public Service
Chase Gaiefsky, Nova Southeastern University, Huizenga College of Business and Entrepreneurship
Linda Kowalcky, Northeastern University, School of Public Policy and Urban Affairs
Elaine McBeth, College of William and Mary, William & Mary Public Policy
Shannon Merchant, University of Washington, Evans School of Public Policy & Governance
Shajuana Isom-Payne, Virginia Commonwealth University, L. Douglas Wilder School of Government and Public Affairs
Mary Snowden-Lorence, New York University, Robert F. Wagner Graduate School of Public Service
Meagan Van Gelder, University of Nebraska at Omaha, School of Public Administration