2019 NASPAA Admissions Professionals Meeting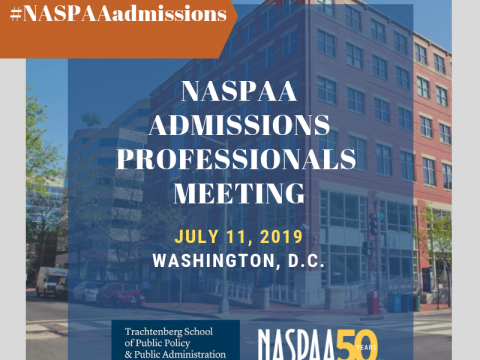 2019 Admissions Professionals Meeting   
The meeting will be hosted by The George Washington University, Trachtenberg School of Public Policy and Public Administration.
NASPAA's Admissions Professionals Meeting is a one-day annual gathering, typically the day prior to the PPIA EXPO in Washington DC in mid-July, for member schools to discuss issues pertaining to admissions, such as recruiting and financial aid. NASPAA will present the findings from its annual membership survey on admissions and new enrollment. Program directors from schools without dedicated admissions staff are welcome!
DATE: 

Thursday, July 11th, 9:30 AM- 5:00 PM. EST
LOCATION: 
The George Washington University           
1957 E Street NW, City View Room (7th Floor)
The building is home to the Elliott School of International Affairs and is located between 19th and 20th street NW. When you arrive take the first bank of elevators to the 7th floor.  
AGENDA:
| | |
| --- | --- |
| 9:30 am | Registration and Continental Breakfast |
| 10 am | Welcome and Introduction |
| 10:30 am | Keynote, Franchesca Reed, Expert Bureau member with NAGAP, The Association for Graduate Enrollment Management, and Associate Vice President of Enrollment Management at Marymount University (VA) |
| 11:30 am | Panel Discussion, Alumni and Current Students Reflection on Admission Process |
| 12:30 pm | Lunch and Presentation of Admission Survey, Stacy Drudy, NASPAA Data Center |
| 1:30 pm | Group Discussion Topics |
| 4:00 pm | Social Hour (at Tonic At Quigley's, approximately 6-minute walk) |
TRAVEL INSTRUCTIONS:
If traveling by Uber, Lyft, or cab, use the address 1957 E St NW, Washington, DC 20052.
If you are arriving via metro, you will take an orange/silver/blue train to the Farragut West Station. Exit via 18th Street and walk south on 18th Street for approximately 4 and a half blocks. Turn right onto E Street NW. 1957 E Street NW will be one block ahead on the right.  
If anyone is planning to drive, there is a garage located in the building with an entrance on 19th Street. The 2nd closest garage is our G Street Garage (2004 G Street NW) visitors can enter from 20th or 21st street. More information and parking rates are available here: https://transportation.gwu.edu/visitors