Changes coming to COPRA Accreditation Announcements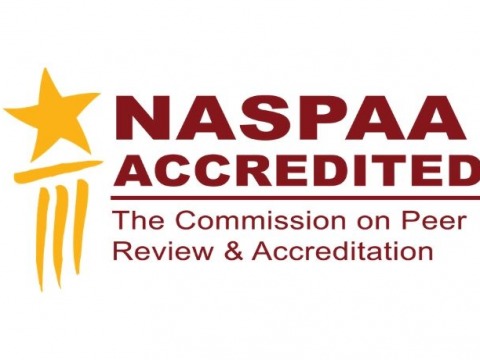 Dear NASPAA members,   
There are some changes coming to NASPAA accreditation practices and communications that we want to share with you now, so that you'll know what to expect in the months ahead, and why we're doing it. 
When COPRA issues its 2019 Accreditation Action Statement in mid-August, you'll notice that the list of programs receiving a one-year reaccreditation (or deferral) will have an annotation as to which standards they are expected to address over the next year.  Then, for programs receiving full accreditation, but for whom monitoring is attached, the standard(s) identified by COPRA as needing monitoring will be annotated. Monitoring in no way takes away from the fact that an accredited program is a fully accredited program. Period. But identifying the monitoring is a reminder that NASPAA and the program share a commitment to support every program's ongoing conformance with the standards, and to continuous improvement. It is a reminder to all of us that we support a program's ongoing efforts to thrive. 
COPRA is making these changes, at one level to comply with our "accreditor"-- the Council on Higher Education Accreditation (CHEA) -- who has called for every recognized accreditor to demonstrably model accountability and transparency in its review process. These values already define the accreditation process, and COPRA seeks to better meet the accountability needs of its community - accredited programs and their stakeholders - as it balances student, faculty, employer, and general public desires to know about program and student outcomes, with the need for programmatic growth, due process, and privacy.
But at another level these changes in our accreditation disclosures is our emphatic statement that we are all in this together. Accreditation is voluntary. We value our accredited programs and know how time-consuming and demanding the accreditation process can be.  We want to continue in our commitment for accreditation to be formative and developmental. And thus, as we move toward greater transparency, the NASPAA Executive Council makes a commitment to all of our accredited programs: every time a standard is cited in denials, deferrals, one-year reaccreditations, or monitored in accredited programs, NASPAA will support schools in their pursuit of program improvement. We will be putting into place several specific initiatives, including a consulting project for minority-serving institutions, and the citing of standards serves as a guidepost to NASPAA of where we can improve our support of members. 
Further,  in March 2019, the NASPAA Executive Council adopted UN Sustainable Development Goal (SDG) 16 as a guide for our mission and goals, and an opportunity to strengthen our services and policies to promote the ideals of good governance. We acknowledge that the work to advance inclusive, effective, accountable, and transparent institutions begins with us. We need to observe the tenets of  transparency that we endorse for others.  
COPRA joins the Executive Council in efforts to ensure that public service values and a commitment to ongoing improvement continue to drive NASPAA's impact, including through the accreditation process. COPRA is proud of the investment of accredited programs in pursuing mission-based outcomes and intends these changes to further promote strategic growth. COPRA has revised its Peer Review and Accreditation Policies and Procedures to reflect the new expectations. Specifically, the changes establish:
COPRA will release the reasons behind all accreditation actions, no later than 20 days after individual decision letters have been sent to programs under review (Section 17);
the annual Statement of Actions will indicate if an appeal is ongoing (15.17);
programs will communicate their own accreditation status clearly and truthfully, and in a timely manner (18.4).
Our shared promise to all NASPAA schools is that we will try as hard as we can for greater transparency to be a force for good, that whether NASPAA Executive Council, or COPRA, or NASPAA member school, we will all benefit from an ongoing, supportive conversation about what's hard in public service education and where we need help, and how we can provide it to each other. 
Warmest Regards,
Palmira N. Rios, NASPAA President
Jeffery L. Osgood, Jr., Chair, Commission on Peer Review and Accreditation (COPRA)
Laurel McFarland, NASPAA Executive Director
Heather Hamilton, Chief Accreditation Officer