2022 NASPAA Annual Conference
Look Back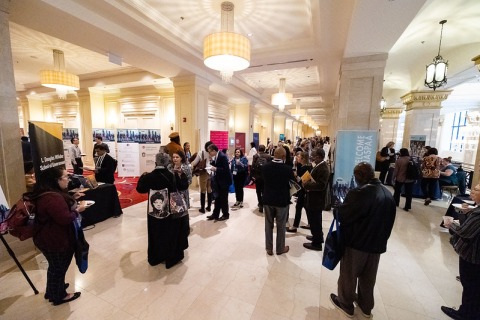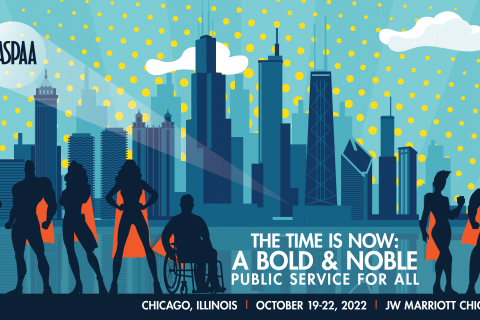 Local Hosts:
University of Illinois Chicago, College of Urban Planning and Public Affairs
Northern Illinois University, School of Public and Global Affairs
University of Illinois Springfield, College of Public Affairs and Administration
#NASPAA2022 Conference Co-Chairs 
NASPAA President, Susan Gooden, named the 2022 NASPAA Annual Conference Chairs. Dr. Brandi Blessett, Associate Professor and Director, Master of Public Administration, Humphrey School of Public Affairs at the University of Minnesota and Dr. Sean McCandless, Assistant Professor and DPA Associate Director, School of Public Management and Policy at the University of Illinois Springfield.
Thank you to the 2022 Committee!
Brandi Blessett, University of Minnesota, CO-CHAIR
Sean McCandless, University of Illinois at Springfield, CO-CHAIR
Vanessa Lopez-Littleton, California State University, Monterey Bay
Tia Sheree Gaynor, University of Minnesota
Ashley Nickels, Kent State University
Mary Bruce, Governors State University
Anthony Starke, University of Colorado Denver
Rachel Emas, Rutgers University-Newark
Stephanie Dolamore, Gallaudet University
Lois Warner, Rutgers University-Newark,
Meghna Sabharwal, University of Texas at Dallas
Abdul-Akeem Sadiq, University of Central Florida,
Kim Moloney, Hamad Bin Khalifa University
Rosa Amelia Gonzalez, Instituto de Estudios Superiores de Administración
Madinah Hamidullah, Rutgers University-Newark
RaJade M. Berry-James, Virginia Commonwealth University
Abraham Benavides, University of North Texas
Patria de Lancer Julnes, University of New Mexico
Shajuana Isom-Payne, Virginia Commonwealth University
Lavonna Lewis, University of Southern California,
Marcus Mauldin, University of Tennessee - Chattanooga
Shahjahan Bhuiyan, The American University in Cairo
Thank you to our Sponsors!
The American University in Cairo, School of Global Affairs and Public Policy Carnegie Mellon University, Heinz College of Information Systems and Public Policy Cornell University, Jeb E. Brooks School of Public Policy George Mason University, Schar School of Policy and Government The George Washington University, The Trachtenberg School of Public Policy and Public Administration John Jay College of Criminal Justice, CUNY, MPA Program New York University, Robert F. Wagner Graduate School of Public Service The University of Chicago, Harris School of Public Policy University of Washington, Evans School of Public Policy & Governance Virginia Commonwealth University, L. Douglas Wilder School of Government and Public Affairs
Penn State – University Park, The School of Public Policy Tulane University, School of Professional Advancement University of Michigan, Gerald R. Ford School of Public Policy
Auburn University, Auburn University Ph.D. in Public Administration & Public Policy and Master of Public Administration Baruch College, CUNY, Austin W. Marxe School of Public and International Affairs Brandeis University, The Heller School for Social Policy and Management Rutgers University, Bloustein School of Planning and Public Policy University of Colorado Denver, School of Public Affairs University of Connecticut, School of Public Policy University of Missouri, Harry S Truman School of Government & Public Affairs University of Southern California, Sol Price School of Public Policy University at Albany, Rockefeller College of Public Affairs & Policy
Arizona State University, School of Public Affairs Carnegie Mellon University, Heinz College of Information Systems and Public Policy Cleveland State University DePaul University, School of Public Service Florida International University, Steven J. Green School of International and Public Affairs Georgetown University, McCourt School of Public Policy Governors State University, Master of Public Administration Program Indiana University, O'Neill School of Public and Environmental Affairs Northeastern University, School of Public Policy and Urban Affairs Old Dominion University, School of Public Service The Ohio State University, John Glenn College of Public Affairs University of Massachusetts Amherst, School of Public Policy UNC-Chapel Hill, Master of Public Administration University of Nebraska Omaha, School of Public Administration
Brigham Young University, George W. Romney Institute of Public Service and Ethics (BYU MPA) Duke University, Sanford School of Public Policy Georgia State University, Andrew Young School of Policy Studies / Department of Public Management and Policy North Carolina State University, School of Public and International Affairs/Public Administration Oregon State University, School of Public Policy Rutgers University-Newark, School of Public Affairs and Administration (SPAA) University of Arizona, School of Government & Public Policy University of Baltimore, College of Public Affairs University of California, Riverside, School of Public Policy University of Delaware, Biden School of Public Policy and Administration University of Hawai'i at Mānoa, Public Administration Program University of Houston, Hobby School Public Affairs University of Iowa, School of Planning and Public Affairs University of Kentucky, Martin School of Public Policy and Administration University of Minnesota, Hubert H. Humphrey School of Public Affairs University of New Mexico, School of Public Administration The University of Texas at Austin, LBJ School of Public Affairs West Chester University of Pennsylvania, Public Policy and Administration Department Wichita State University, Hugo Wall School of Public Affairs