2021 NASPAA Awards Nominations Open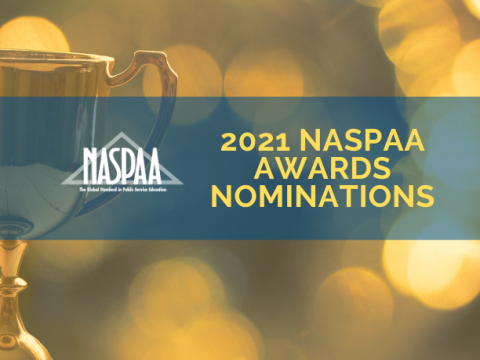 Great work is accomplished every day by public service education faculty, students and programs. At the NASPAA Annual Conference, we highlight this excellence!
You can nominate yourself, peers, students and programs by submitting a few pieces of information; review the full details here.
Alumni Spotlight Award
Staats Emerging Scholars Award
NASPAA Dissertation Award
NASPAA/ASPA Distinguished Research Award
Duncombe Excellence in Doctoral Education Award
Leslie Whittington Excellence in Teaching Award
Diversity Award
Social Equity Award
Social Justice Curriculum Award
Pi Alpha Alpha Chapter of the Year Award
Pi Alpha Alpha Chapter Advisor of the Year Award
Pi Alpha Alpha Master's Degree Manuscript Award
Pi Alpha Alpha Doctoral Manuscript Award
All nominations must be submitted by Monday, June 7, 2021 at 11:59 p.m. EST. Winners will be announced in late-August 2021. 
Contact David Marshall, Director of Membership Development, with questions: marshall@naspaa.org.