2021-2022 Roster of NASPAA Accredited Programs Released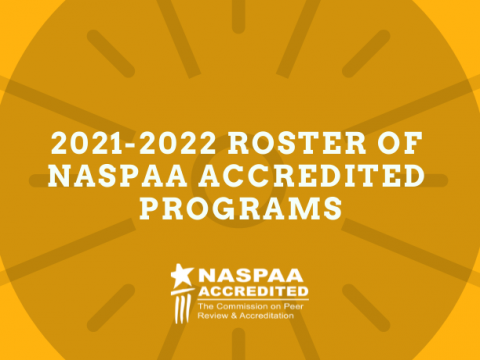 NASPAA is pleased to release the 2021-2022 Roster of Accredited Programs, the complete list of master's degree programs accredited by the Commission on Peer Review and Accreditation (COPRA). 
The 2021-2022 Roster includes four programs accredited for the first time: 
Beijing Normal University, Master of Public Administration
Doha Institute for Graduate Studies, Master of Public Administration
North Carolina Central University, Master of Public Administration
University of Central Oklahoma, Master of Public Administration
NASPAA accredited programs have displayed an unfaltering dedication to supporting and serving their students and communities over the past year, as they adapted to the ongoing changes resulting from the pandemic. Shawn T. Flanigan, COPRA Chair, stated, "We are constantly inspired by the continued resilience and commitment of our accredited programs around the world during the COVID-19 pandemic, and are heartened that new programs have recognized the value of pursuing NASPAA accreditation even during these challenging times."
The 2021 COPRA Accreditation Action Statement is also available on COPRA's website. 
NASPAA Accredited programs contribute to the knowledge, research, and practice of public service, establish observable goals and outcomes, and use information about their performance to guide program improvement. They practice truth in advertising and ensure their students achieve learning objectives in five domains essential to public service. If you are interested in pursuing accreditation for your program, please join us at the 2021 Accreditation Institute, or contact NASPAA staff for more information. 
Please join us in congratulating all newly accredited and reaccredited programs!