2020 NASPAA Annual Conference
#NASPAA2020 Recap  
#NASPAA2020 was an entirely new online experience where the NASPAA community was able to share, learn, connect, and showcase in a safe and sustainable way on Oct. 14 – 16, 2020. This was NASPAA's first ever virtual conference.
In total, there were 743 conference "attendees" from over 250 universities in 25 countries. There were a total of 65 panels and seven workshops featuring the over 300 different speakers.
The theme, "Building the New Civic Square", fueled hard-hitting conversations, discussing voice in the civic square of 2020 America and the world, and on speaking truth to power in pandemic management and policy. Tracks centered on:
Research and Teaching: What is the new civic education?
Impact and Engagement: What are programs and NASPAA doing in this space?
Inclusion in the a New Civic Square
The New Civic Square Globally: what is means around the world?
Coronavirus: Public Sector and Public Affairs Education
Undergraduate Education and Public Affairs 
Topics covered: Assessment, Budget and Financial Management, Comprehensive Schools, Diversity and Social Equity, Doctoral Education, Emerging Trends, Local Government Management, Nonprofit Management, Research, Sustainable Development, Small Programs, Teaching and Learning, Technology, and Undergraduate Education.
Panels were conducted in two formats – live full panels presented as webinars and pre-recorded panels with live Q and A sessions.
All live sessions were recorded and available for all registered conference attendees to view any time through March 2021. 
Opening plenary keynote
Keesha Gaskins-Nathan
Democratic Practice–United States, Rockefeller Brothers Fund Program Director
NASPAA's keynote speaker was Keesha Gaskins-Nathan, the director for the Democratic Practice (United States program) at the Rockefeller Brothers Fund. She spoke directly and eloquently to our conference theme of building the new Civic Square, "So, what is the Civic Square for the 21st Century? It includes both concepts and action, principles and engagement. It rests in the narrative we tell ourselves about the politics of the day, and the culture of our democratic engagement. It includes our formal democratic systems, the actual physical spaces and their connection to civic engagement, digital spaces, and engaging with informal spaces. It is formal engagement through democratic processes, where people come together to advance individual or collective ideas, to express our political thoughts. To be meaningful, we can't divorce civic engagement from power. We can't think we have a civic life without political consequences."
"Like the Native, immigrant, Territorial, and Black women, who fought for years beyond the nominal extension of the vote to women, we must now consider whom we disengage when we suggest that the Civic Square is a neutral space, where we all come to be heard equally. If that is something we desire, it must be built in and embedded in the design from the beginning." and we are pleased to present both a recording of her address, as well as an edited transcript of her remarks.
Ms. Gaskins-Nathan is dedicated to advancing measures and ideas that improve democratic systems and engage democratic culture in the United States to support full and fair democratic and economic opportunity for all residents. In addition to serving as senior counsel with the Brennan Center for Justice, directing their Redistricting and Representation program, Ms. Gaskins- Nathan served as executive director for the League of Women Voters Minnesota and was also a 2008 Feminist Leadership Fellow with the University of Minnesota, Hubert H. Humphrey Institute of Public Affairs, at its Center on Women and Public Policy.
Conference Highlights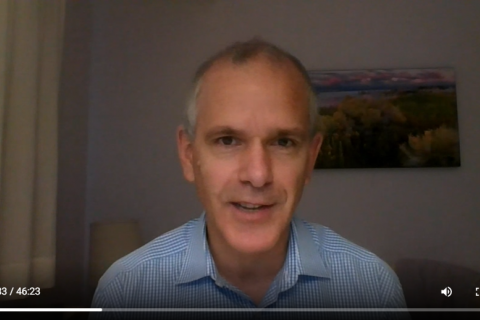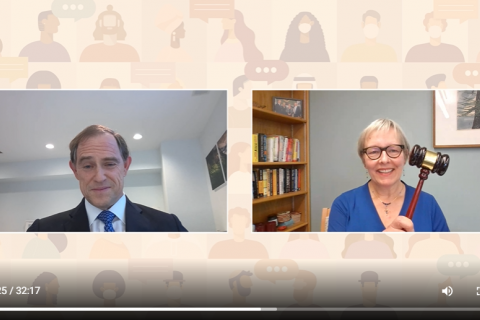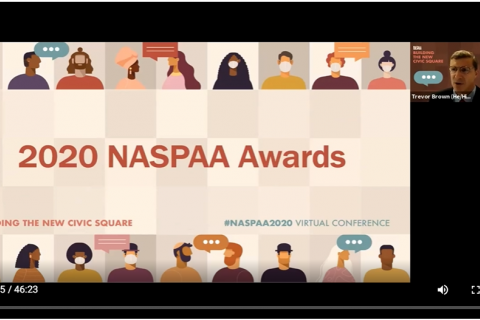 Sessions of Note
Faculty from O'Neill School of Public and Environmental Affairs at Indiana University – Purdue University Indianapolis (IUPUI) and the University of Miami won the fourth annual George V. Voinovich Public Innovation Challenge with an online dashboard to compare the ways states are responding to COVID-19.  
The challenge is sponsored by Ohio University's Voinovich School of Leadership and Public Affairs (soon to be Public Service) in conjunction with the Network of Schools and Public Policy, Affairs and Administration (NASPAA), and it aired live at NASPAA's 2020 virtual annual conference. This year's challenge focused on innovation in the face of COVID-19.  
The winning innovative project, "COVID-19 Executive Orders Project," was created and presented by Peter Stanley Federman, IUPUI, and Cali Curley, the University of Miami. The tool examines and analyzes pandemic-related executive orders adopted at state levels and presents them in a dashboard for comparison. "We think that we can learn from how executives have responded to this crisis and potentially identify the variables that might predict the type, style and comprehensiveness of further responses to other crises," Federman said. Federman and Curley plan to use their $10,000 first place prize to hire students to help continue coding the executive orders. They also plan to start a second dashboard that follows the reopening of states.  
Michael Kern and Phyllis Shulman, William. D. Ruckelshaus Center at Washington State University and the University of Washington, won second place for their project, "Learning from Responses to COVID-19: Improving Preparedness, Recovery and Resilience in Washington State." This project analyzed Washington's early response to the pandemic to improve future responses and outcomes.  
"The pandemic created a microscope to what is working well and what is not working well in our communities. It's critical to have an in-depth understanding of what is being learned along the way, so we can consider how to move into the future," Shulman said. Kern and Shulman plan to use the $3,000 second-place prize to jump-start the data for a comprehensive assessment of implementation for their project.  
The other two competition finalists, who each won a $1,000 prize, were: Rebecca Brenner and Danielle Eiseman of Cornell University, who pitched "Pathways for Empowering Community Resilience," a project to link underrepresented college students with communities for help meeting unmet local, national and global needs. Christopher Wyczalkowski of the Andrew Young School of Policy Studies at Georgia State University, who pitched the Micromobility Lab, a project involving college students in ways to improve micro-scale transportation in Atlanta.  
Winners were selected by a panel of four judges: Keon-Hyung Lee, director of the Askew School of Public Administration and Policy at Florida State University; Sara Rinfret, director of the Master of Public Administration program at the University of Montana and 2019 Voinovich Public Innovation Challenge winner; David Van Slyke, dean of the Maxwell School at Syracuse University; and Alex Murray, director of online academic programs at the Voinovich School.  
"It was rewarding to be a judge this year and get a perspective of all the great work campuses are doing to help provide solutions during this pandemic," Rinfret said. "As a previous recipient, I wanted to continue to honor the work of Senator Voinovich, someone I had the honor working for as a native Ohioan."
The challenge was developed by Laurel McFarland, executive director of the NASPAA, and Voinovich School Dean Mark Weinberg to honor Senator George V. Voinovich and his nearly half-century of public service. He encouraged others to design and deliver practical solutions to challenging public problems, expand higher education public-private partnerships and educate, mentor and develop dedicated public servants. "I love this competition because I think the spirit of Senator George Voinovich is a reminder to all of us to raise up public servants, public service and the spirit of bipartisanship," McFarland said. "It's such a pleasure to do this at the NASPAA conference to both remember the senator and to celebrate the innovation and programming at these schools.
Dr. Susan Appe (University at Albany, SUNY), Dr. Rosa González (Instituto de Estudios Superiores de Administración -IESA); Dr. Cristián Pliscoff Varas (Universidad de Chile) and Fabian Telch (Binghamton University) came together to explore how participation can be enhanced during a time when national civic squares are highly contested and divisive. Drawing on the mandate of SDG 16 and the effects of the recent COVID-19 crisis, this panel focused on understanding of the role of students, public affairs and public administration programs and civil society organizations in Latin America.
During the discussion, participants and panelists discussed the role of university professors in teaching good citizenship behavior, as well as "responsible position taking," the idea of taking positions on the issues while trying to maintain neutrality in the classroom.
In the panel "What Are We Teaching About Teaching? How PA Doctoral Programs Are Preparing Students for University-level Teaching," faculty and PhD students from three NASPAA Accredited Schools (Arizona State, North Carolina State, and The George Washington University discussed how doctoral programs are "teaching students to teach." Paul Broussard from North Carolina State indicated that, "Communicating what to expect" about the teaching process was critical. According to Jerrell Coggburn of North Carolina State, components of their instruction included creating mock syllabi, shadow teaching, and an exercise in developing a syllabus. Margaretha Bentley of Arizona State University said their students help with grading, observe faculty, and the critical importance of providing PhD students who teach with vetted syllabi and training on how to use syllabus to organize instruction. Using faculty observations to provide formative feedback to student instructors is key. All programs that were represented provided a dedicated to teaching, with Burt Barnow from The George Washington University indicating that their online course may be expanding to "make it more realistic."
In the panel, "Teaching Public Administration Ethics to Build a New Civic Square-Lessons and Contested Issues Past and Present, presenters discussed the changing landscape of public administration higher education, and the numerous challenges for ethics educators presented by accreditation standards. The panel premise was that public administration ethics will contribute to building the new civic square. James Svara from The University of North Carolina at Chapel Hill discussed the evolutions of ethics in the NASPAA Accreditation Standards, and concluded that after the 2007 Standards, the focus was shifted away from ethics as an explicit focus. Panelists discussed the critical importance of ethics as a critical component of the new civic square.
Yali Pang
Yali Pang is a PhD candidate in Public Administration and Policy at the L. Douglas Wilder School of Government and Public Affairs, Virginia Commonwealth University. Her academic focus is in the area of nonprofit management, social equity and cultural competency.
Ben Glasner
Ben Glasner is a PhD candidate in at the Evans School of Public Policy & Governance, University of Washington. His research interests include labor allocation and rural and urban economics.
Thank you to our Sponsors!
PLATINUM LEVEL "Civic Square Inclusion & Voice"
American University, School of Public Affairs
Baruch College, City University of New York, Austin W. Marxe School of Public and International Affairs
Carnegie Mellon University, Heinz College of Information Systems and Public Policy
Columbia University, School of International and Public Affairs
Georgia Institute of Technology, School of Public Policy
Indiana University, O'Neill School of Public and Environmental Affairs
New York University, Robert F. Wagner Graduate School of Public Service
Ohio University, Voinovich School of Leadership and Public Affairs
University of Houston, Hobby School of Public Affairs
University of Maryland, School of Public Policy
University of Minnesota, Humphrey School of Public Affairs
University of Missouri, Harry S Truman School of Public Affairs
University of North Texas, College of Health and Public Service, Department of Public Administration
GOLD LEVEL "Civic Engagement Supporter"
Brandeis University, The Heller School for Social Policy and Management
Northeastern University, School of Public Policy and Urban Affairs
Penn State, University Park, School of Public Policy
The University of Chicago, Harris Public Policy
University at Albany, Rockefeller College of Public Affairs & Policy
University of Pittsburgh, Graduate School of Public and International Affairs
LIVE SESSIONS "Public Discourse Champions" Panels: 
Penn State, University Park, School of Public Policy
Northeastern University, School of Public Policy and Urban Affairs
Keynote: 
Carnegie Mellon University, Heinz College of Information Systems and Public Policy
Pitch Competition:
Ohio University, Voinovich School of Leadership and Public Affairs
SILVER LEVEL "Global Citizen"
Cleveland State University, Maxine Goodman Levin College of Urban Affairs
Duke University, Sanford School of Public Policy
George Mason University, Schar School of Policy and Government
The George Washington University, Trachtenberg School of Public Policy and Public Administration
Georgetown University, McCourt School of Public Policy
John Jay College of Criminal Justice, CUNY, MPA Program / Department of Public Management
Old Dominion University, School of Public Service
Oregon State University, School of Public Policy
The Ohio State University, John Glenn College of Public Affairs
Rutgers University–Newark, School of Public Affairs and Administration (SPAA)
The University of North Carolina at Chapel Hill, School of Government - Master of Public Administration
University of Arizona, School of Government & Public Policy
University of Colorado Denver, School of Public Affairs
University of Connecticut, Department of Public Policy
University of Illinois Springfield, College of Public Affairs and Administration
University of Nebraska Omaha, School of Public Administration
University of Oregon, School of Planning, Public Policy and Management
University of Southern California (USC), Sol Price School of Public Policy
Virginia Commonwealth University, L. Douglas Wilder School of Government and Public Affairs
Texas A&M University, Bush School of Government and Public Service
West Chester University, MPA
CONFERENCE GAME "Community Building Sponsorship"
Baruch College, City University of New York, Austin W. Marxe School of Public and International Affairs  
NASPAA AWARDS "Celebrating Public Service Education Excellence Sponsorship"
Virginia Commonwealth University, L. Douglas Wilder School of Government and Public Affairs
NASPAA DIGITAL FLIP-BOOK "Sustainability Supporter"
Texas A&M University, Bush School of Government and Public Service
Thank you to the 2020 Annual Conference Committee
Trevor Brown, The Ohio State University, CHAIR
Mohamad Alkadry, University of Connecticut
Roland Anglin, Cleveland State University
Brandi Blessett, University of Cincinnati
Madinah Hamidullah, Rutgers University - Newark
Roger Hartley, University of Baltimore
Christopher Koliba, The University of Vermont
Tina Nabatchi, Syracuse University
Ogochukwu Iruoma Nzewi, University of Fort Hare
Pablo Sanabria, Universidad de los Andes
Edmund Stazyk, University at Albany – SUNY