Heather Hamilton Named New Chief Accreditation Officer at NASPAA; Crystal Calarusse to be CEO of INQAAHE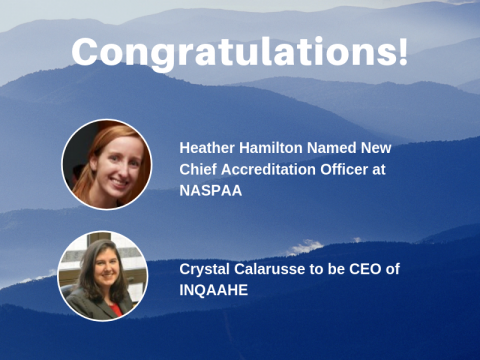 PRESS RELEASE
For release 4/8/19
HEATHER HAMILTON NAMED NEW CHIEF ACCREDITATION OFFICER AT NASPAA
CRYSTAL CALARUSSE TO BE CEO OF INQAAHE
Washington, DC, April 8, 2019
NASPAA Executive Director Laurel McFarland today announced that HEATHER HAMILTON has been named NASPAA's new Chief Accreditation Officer, effective April 15. Ms. Hamilton has been at NASPAA since late 2012, serving first as Accreditation Associate, and then as Director of Assessment and Accreditation Manager. As CAO, she will be managing NASPAA's accreditation operations, and will have responsibility for all stages of the accreditation process. Ms. Hamilton has led a number of efforts to advance accreditation at NASPAA, including making accreditation education and training more effective, and improving systems for volunteer management. She has a special interest in assessment and program effectiveness, and she will continue to develop that expertise as CAO. She has a Master of Public Service and Administration from the Bush School of Government and Public Service, Texas A&M University, and a Bachelor of Arts in Political Science from Trinity University. Heather said, "I am proud to be stepping into the role of CAO and look forward to continuing to support the important work of COPRA and NASPAA in advancing quality in public service education across the world."
CRYSTAL CALARUSSE, NASPAA's Chief Accreditation Officer since 2011, leaves NASPAA on April 12 to become the first CEO of INQAAHE (the International Network for Quality Assurance Agencies in Higher Education), an association of 300 organizations active in the theory and practice of quality assurance in higher education. In a 13 year career at NASPAA, Ms. Calarusse oversaw the significant growth in the number of accredited programs,   implemented new standards, and traveled the world growing NASPAA's global accreditation efforts to include 12 non-US programs. Regarding her move to INQAAHE, she said, "Working with the supportive community of scholars at NASPAA has been a tremendous privilege. I am excited to begin the next stage of my career in global quality assurance at INQAAHE and I feel grateful for the preparation I received at NASPAA to take on higher education's global challenges."
Laurel McFarland, NASPAA Executive Director said, "I am delighted that Heather Hamilton is becoming our new CAO. She is so capable and competent, and is both deep-thinking about the future of accreditation and mindful about the daily challenge of advancing quality in our field. On top of all that, she is wonderfully publicly spirited!   I also owe a huge debt of gratitude to Crystal Calarusse for her many years of hard work building a world-class accrediting process at NASPAA. I would like to thank her for everything she has contributed to NASPAA, and It is hard to imagine where our accreditation program would be today without her. We all wish her great success at INQAAHE as its first CEO, and since NASPAA is an INQAAHE member, we look forward to continuing to work with her and her organization in the years ahead."  
NASPAA President Palmira Rios said, "It has been a pleasure to work with Crystal Calarusse for many years, especially when I served as member of COPRA and of the Executive Council. She played a critical role in the implementation of our current standards and in the internationalization of our accreditation. She served NASPAA well, always looking out to ensure quality and fairness in our decisions. We wish Crystal   great success at the international level of accreditation policy and practice. I also have the highest regard for Heather Hamilton, who will be assuming the responsibilities of Chief Academic Officer. I am confident that Heather will guide NASPAA's accreditation process into higher levels of quality, inclusion and global reach."
Jeffery Osgood, COPRA chair 2017-19, said, "On behalf of the Commission on Peer Review and Accreditation, I want to thank Crystal Calarusse for 14 years of extraordinary service in support of advancing quality public service education globally. We wish Crystal all the best in her new role promoting quality assurance in higher education."
Founded in 1969-1970, the Network of Schools of Public Policy, Affairs, and Administration (NASPAA) is a Washington, D.C.-based global nonprofit organization of more than 300 graduate schools of public policy and administration on five continents. It serves as the global standard in public service education. NASPAA advances quality in public affairs education through accreditation, international conferences, and a host of other services to support program management, teaching, and learning. The association also promotes the ideal of public service, advocates for hiring of graduate educated professionals around the world, and encourages the highest quality scholarship in public policy and administration. NASPAA (with its accrediting body, the Commission on Peer Review and Accreditation) is recognized by the Council for Higher Education Accreditation (CHEA).
CONTACTS:
Laurel McFarland, mcfarland@naspaa.org
Heather Hamilton, hamilton@naspaa.org
Crystal Calarusse, calarusse@naspaa.org, and from April 15, 2019: ceo@inqaahe.org