Call for Proposals: 4th Annual NASPAA & ICPA-Forum/JCPA Workshop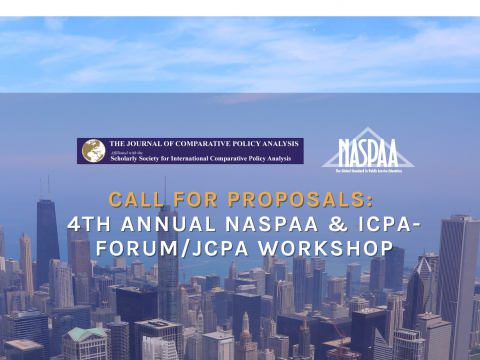 NASPAA and the International Comparative Policy Analysis Forum (ICPA-Forum) will co-host a conference workshop during the 2022 NASPAA Annual Conference in Chicago, Illinois. The ½ day workshop will be held on Wednesday, October 19, 2022.
Do your classes systematically compare and teach students how to engage in comparative analysis in key issues in the field of public affairs? Building on past NASPAA & ICPA-Forum/JCPA Workshops, first conceived and spearheaded by Professor Nadia Rubaii, we will convene to consider the ways in which effective governance in the public and nonprofit sectors demand a comparative perspective, especially to evaluate how and why similarities and differences in contexts, cultures, leadership, management, structures, and more matter demands an awareness of how things are similar and different in other places, and how to systematically apply a comparative perspective. For this year's call, we are adopting a "big tent" approach to explore and assess how comparative lenses are being applied and used in our MPA and MPP curricula.