2022 NASPAA Awards Nominations Open!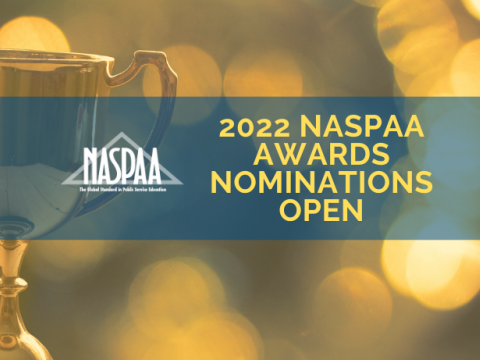 Great work is accomplished every day by public service education faculty/staff, students and programs. At the NASPAA Annual Conference, we highlight this excellence!
New for 2022, we are excited to announce a new award – the NASPAA Professional Staff Award. This award shall recognize a staff person who fulfills and supports the operational and management activities of one of our member schools. Such duties would include but are not limited to: admissions, career placement, financial aid, alumni development, grant writing, academic advising, business/office management, marketing & communications and other duties that contribute to the successful operation and community creation of our member schools.
You can nominate yourself, peers, students and programs by submitting a few pieces of information; review the full details here.
It is our hope that our award recipients reflect the great diversity that is within our global network. Therefore we hope you will nominate students, faculty/staff, and alumni who are not only from diverse backgrounds but their leadership, research, and/or body of work has contributed to a deeper understanding of Diversity, Equity, and Inclusion both domestically and internationally.
NEW: NASPAA Professional Staff Award
Alumni Spotlight Award
Staats Emerging Scholars Award
NASPAA Dissertation Award
Duncombe Excellence in Doctoral Education Award
Leslie Whittington Excellence in Teaching Award
Diversity Award
Social Equity Award
Social Justice Curriculum Award
Pi Alpha Alpha Chapter of the Year Award
Pi Alpha Alpha Chapter Advisor of the Year Award
Pi Alpha Alpha Master's Degree Manuscript Award
Pi Alpha Alpha Doctoral Manuscript Award  
All nominations must be submitted by Monday, June 6, 2022 at 11:59 p.m. EST. Winners will be announced in late-August 2022. Click here for a nomination form.
Contact David Marshall, Director of Membership Development, with questions: marshall@naspaa.org.